| | |
| --- | --- |
| Thursday, 15 February 2018, 08:30 HKT/SGT | |


Source: HKTDC
Fashion Hong Kong Showcase Spotlights Hong Kong Creativity



HONG KONG, Feb 15, 2018 - (ACN Newswire) -

The Hong Kong Trade Development Council (HKTDC) brought three Hong Kong fashion labels to launch their Fall/Winter 2018 collections at New York Fashion Week, on 9 February. The HKTDC also staged a Fashion Hong Kong runway show, which was attended by a packed audience.

Apart from attracting more than 500 buyers, media representatives and fashion experts, HKTDC streamed the event live on Facebook, allowing fashionistas from around the world interested in Hong Kong fashion to catch the show online.

- Fashionistas at Fashion Hong Kong -

The Hong Kong labels that took part at this year's Fashion Hong Kong runway show were ANVEGLOSA, established by Annette Chan; Harrison Wong's eponymous label HARRISON WONG; and HEAVEN PLEASE+, which was formed by the design duo of Yi Chan and Lary Cheung.

Local fashion bloggers as well as international fashion media attended the Fashion Hong Kong runway show, including ELLE Italy, ELLE Spain, WWD, FashionWeekOnline.com and The Daily Front Row. Several fashionistas and celebrities, including artists Philip Tabor, Masika Kalysha, Rydel Lynch and designer Genevieve Gorder, attended the event.

Following the Fashion Hong Kong runway show, the HKTDC organised a B2B reception on 9 February at The High Line Hotel, to create networking opportunities for Hong Kong designers to meet fashion industry representatives.

More than 250 buyers, industry players and media reporters were treated to a fashion presentation. Daniel Kadishson, Director of Economic Development, New York City Mayors' Office for International Affairs, also came to lend the city's support for the event.

- Fashion Hong Kong Showroom facilitating buyer-designer interaction -

A large number of fashion buyers visited the HKTDC Fashion Hong Kong Showroom at Showroom Seven, a professional B2B showroom set up during New York Fashion Week, from 7-20 February.

In addition to the three runway labels, 13 other up-and-coming Hong Kong fashion brands: a o g p, BIG HORN, Ejj Jewellery, FAVEbyKennyLi, FREQUENT FLYER, Heritage ReFashioned, LAByrinth, L'impression du temps, LOOM LOOP, MASE, NICI HARMONIC, niin and SHOKAY, are also being showcased.

Both Heritage ReFashioned and LOOM LOOP feature eco-fashion, with the former transforming upcycled vintage textile into sustainable fashion clutches; while the latter incorporating Canton silk, a traditional fabric that uses natural dyeing techniques.

Fashion Hong Kong is a series of international promotions organised by the HKTDC to raise the global profile of Hong Kong fashion designers and labels. Since 2015, Fashion Hong Kong has been staging world-class runway shows at major international fashion events, including at New York Fashion Week, Copenhagen Fashion Week and Tokyo Fashion Week, to showcase Hong Kong's fashion design prowess.

- Holistic Promotion Campaign -

Fashion Hong Kong partnered with Klook, a Hong Kong travel start-up, to introduce Hong Kong's unique fashion design to lifestyle travellers worldwide. Fashion Hong Kong also collaborated with local digital start-up VirtualCyte, to produce the first 360-degree video production on Hong Kong designers at New York Fashion Week.

In addition, FashionWeekOnline.com, which is regarded as the insiders' guide to international fashion weeks, launched a Hong Kong section to promote emerging Hong Kong fashion designers and HKTDC fashion events.

Fashion Hong Kong:
www.fashionhongkong.com
Photo download: http://bit.ly/2F0vyzS
Collection photos: http://bit.ly/2nXIxuU
KA WA KEY Fall/Winter 2018 collection: http://bit.ly/2EHsYB0

About HKTDC
The Hong Kong Trade Development Council (HKTDC) is a statutory body dedicated to creating opportunities for Hong Kong's businesses, and promoting a platform for doing business with China, Asia and the world. The HKTDC organises international exhibitions, conferences and business missions while providing information via trade publications, research reports and digital channels including the media room. For more information, please visit www.hktdc.com/aboutus and follow us on Google+, Twitter @hktdc, and LinkedIn.

Contact:
Sam Ho, HKTDC
Comms & Public Affairs
T: +852 2584 4569
E: sam.sy.ho@hktdc.org


Feb 15, 2018 08:30 HKT/SGT
Topic: Press release summary
Sectors: Trade Shows, Fashion/Apparel
http://www.acnnewswire.com
From the Asia Corporate News Network



Copyright © 2019 ACN Newswire. All rights reserved. A division of Asia Corporate News Network.



Multimedia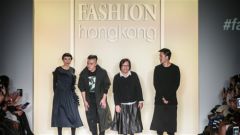 From L: design duo Yi Chan and Lary Cheung (Brand: HEAVEN PLEASE+), Annette Chan (Brand: ANVEGLOSA), and Harrison Wong (Brand: HARRISON WONG)
View Image
HKTDC
Jan 21, 2019 19:00 HKT/SGT
HKTDC Education & Careers Expo Opens on Thursday
Jan 17, 2019 20:00 HKT/SGT
Hong Kong Fashion Week for Fall/Winter Closes
Jan 16, 2019 17:00 HKT/SGT
3,300+ Finance, Business Leaders Join Asian Financial Forum
Jan 15, 2019 18:00 HKT/SGT
Hong Kong Fashion Week for Fall/Winter Is Under Way
Jan 14, 2019 19:00 HKT/SGT
12th Asian Financial Forum Opens
Jan 14, 2019 18:00 HKT/SGT
Hong Kong Fashion Week Opens with 1,400 Exhibitors
Jan 10, 2019 20:00 HKT/SGT
130,000+ Buyers Visit First Four HKTDC Fairs of 2019, Up 3.3%
Jan 9, 2019 21:00 HKT/SGT
Asia's Largest Licensing Show Attracts 23,000 Visitors
Jan 9, 2019 16:00 HKT/SGT
Future for Toy Industry 'Challenging but Bright'
Jan 8, 2019 14:00 HKT/SGT
Asian Licensing Conference Gathers Global Experts
More news >>