Opens the Facility of Aluminum Product Evaluation Center in Kitakata



TOKYO, Feb 28, 2018 - (JCN Newswire) -

Showa Denko ("SDK"; TSE:4004) has established an 'Aluminum Product Evaluation Center' in its Kitakata Plant, located in Fukushima Prefecture, as a laboratory in its Institute for Integrated Product Development, Business Development Center, to accelerate development of aluminum alloy materials. The Company held an official ceremony today opening the Center.

As automotive parts manufacturers adopt aluminum alloys as materials to produce parts with reduced weights, including suspensions and driving gears, demand for these alloys shows steady growth. SDK produces Shotic(TM) small-diameter continuously cast rods, as well as forged products such as large-sized aluminum extrusions and cooling devices for power semiconductors used in electric vehicles.

Shotic has a homogeneous and fine metal structure, which is featured by SDK's proprietary continuous casting technology, displaying wear-resistance under extreme temperatures, high abrasion resistance, and high corrosion resistance. In addition, forged products made from Shotic also show high-strength, high-abrasion resistance, and low thermal expansivity.

In order to make these products suitable for further weight reduction in automobiles, we are striving to improve our aluminum alloy production technology, aiming to realize higher strength. Therefore, SDK is establishing the Aluminum Product Evaluation Center at the Kitakata Plant, the main location for developing and producing cast and forged aluminum products.

SDK expects the Product Evaluation Center to serve the Group in analyzing and developing aluminum alloys, and accelerating the development of cast, forged and extruded aluminum products. SDK hopes to develop new multi-material composites with organic, inorganic, and metal materials by strengthening its analysis technology through cooperation between its Aluminum Product Evaluation Center, Analysis & Physical Properties Center and Computational Science and Technology Information Center, these latter two located in Chiba Prefecture, and also under the Institute for Integrated Product Development.

Under its ongoing medium-term business plan "Project 2020+," the Showa Denko Group aims to provide the five target market domains of "Energy," "Electronics," "Infrastructure," "Living environment," and "Mobility" with high-value-added products and services, thereby contributing to the creation of a global society where affluence and sustainability are harmonized. The Showa Denko Group continues tending to sprouts of new businesses which will contribute to further growth of the Group in the future, through deepening and integration of its R&D activities in various fields.


About Showa Denko K.K.

Showa Denko K.K. (SDK; TSE:4004, ADR:SHWDY), a major manufacturer of chemical products, serves a wide range of fields from heavy industry to electronics and computer industries. The Petrochemicals Sector provides cracker products such as ethylene and propylene, the Chemicals Sector provides industrial, high-performance and high-purity gases and chemicals for semicon and other industries, and the Inorganics Sector provides ceramic products, such as alumina, abrasives, refractory and graphite electrodes and fine carbon products. The Aluminum Sector provides aluminum materials and high-value-added fabricated aluminum, the Electronics Sector provides HD media, compound semiconductors such as ultra high-bright LEDs and rare earth magnetic alloys, and the Advanced Battery Materials Department (ABM) provides lithium-ion battery components. For more information, please visit www.sdk.co.jp/english/.

Contact:
Public Relations Office
Phone: 81-3-5470-3235

Feb 28, 2018 13:00 HKT/SGT
Source: Showa Denko K.K.
Showa Denko K.K. (TSE: 4004)
Topic: Press release summary
Sectors: Chemicals, Nanotechnology
http://www.acnnewswire.com
From the Asia Corporate News Network
Copyright © 2019 ACN Newswire. All rights reserved. A division of Asia Corporate News Network.
Multimedia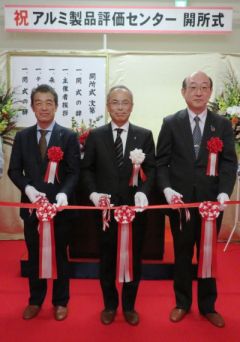 Ribbon-cutting ceremony,(L to R) Kanji Takasaki, Corporate Officer; Jun Tanaka, Director, Managing Corporate Officer; Tetsuo Wada, Corporate Officer
View Image
Showa Denko K.K.
May 9, 2019 14:00 HKT/SGT
Showa Denko Announces 2019 First Quarter Financial Results
May 9, 2019 14:00 HKT/SGT
Showa Denko Introduces SAP S/4HANA as Next-Generation ERP System
May 9, 2019 14:00 HKT/SGT
SDK to Improve Carbon Division's Production Sites in Europe
Apr 25, 2019 10:30 HKT/SGT
Showa Aluminum Can to Establish Third Production Base in Vietnam and Expand Existing Can End Production Lines
Apr 23, 2019 12:00 HKT/SGT
Showa Denko Starts Service to Measure Performance of Noxious-GHG Removal Equipment
Apr 16, 2019 11:00 HKT/SGT
SDK Group Starts Mass Production of Liquefied Carbon Dioxide in Oita Petrochemical Complex
Apr 10, 2019 10:00 HKT/SGT
SDK and IBM Develop AI-Based Patent Interpretation Support System
Apr 1, 2019 11:00 HKT/SGT
Outline of Showa Denko CEO Message at Initiation Ceremony
Mar 5, 2019 16:30 HKT/SGT
Showa Denko Revises Board Benefit Trust
Feb 21, 2019 13:00 HKT/SGT
SDK to Begin Shipment of MAMR-Technology-based HD Media
More news >>