| | |
| --- | --- |
| Tuesday, 27 March 2018, 17:00 HKT/SGT | |


Source: HKTDC
Latest Developments and Outlook Discussed at FILMART Seminar



HONG KONG, Mar 27, 2018 - (ACN Newswire) -

Just like Star Trek, virtual reality (VR) is boldly taking the animation industry where it has never gone before - virtually at the speed of light into an uncharted space where imagination knows no limits. This brave new world and its historic influence on film-making was explored by a panel of top international animation executives at a 21 March seminar themed "VR/AR: How Will This Change the Animation Industry" held during the Hong Kong International Film & TV Market (FILMART) 2018 (19-22 March).

At the seminar, co-organised by the Hong Kong Trade Development Council (HKTDC) and Annecy International Animated Film Festival and Market, moderator Yann Marchet, General Delegate, Paris Images Digital Summit (France), noted how the VR/AR (augmented reality) market is also soaring in value - estimated at US$9 billion last year, US$17 billion this year and US$30 billion by 2025.

- Chinese mainland - the hottest battleground

The immersive phenomenon is especially connecting with audiences on the Chinese mainland, where the astonishing pace of market penetration of head-mounted devices (HMDs), software, VR content, commerce and cafes makes it the industry's hottest battleground, nicknamed 'Wild Wild East'. "There are many expectations, but it's a crowded space and there are many changes ahead," said Mr Marchet.

Digital Domain, the world's leading VR producer which was founded by film director James Cameron and partners in the 1990s and has made its name with Oscars, Emmy and Golden Globes on virtually every immersive production from Titanic through to the Transformers, Iron Man and Spider-man franchises, runs studios in Beijing and Shanghai. Examples of their productions -- breathtaking, high-octane clips of superheroes, war zones, action scenes and crashes -- were shown at the seminar by Yifu Zhou, VFX Supervisor, Vice President and Head of Studio, Beijing, Digital Domain, to a round of applause from the packed audience.

Mr Zhou helms a world-class Greater China team that also produces VR for Chinese blockbusters, commercials for such top brands as BMW, Nike, Adidas and Audi, as well as Chinese celebrity music videos and pioneering fields beyond - from visual effects and VR creating "virtual humans" to interactive content.

He said his Greater China team's first original VR creation, Micro Giants, which provided an "unprecedented" and highly engaging, computer-generated VR perspective of insect life, was honoured on the international stage this year at the New Frontier' exhibition of the prestigious 2018 Sundance Film Festival.

- Pushing boundaries

Brandon Oldenburg, Chief Creative Officer at Flight School Studio of the United States epitomised the industry's futuristic outlook: "We're all about what's coming next, pioneering new ideas and looking ahead to next year, and to 2024!"

Developing original content for global brands including Amex and Coca-Cola, the company has a mantra to be "groundbreaking, audacious, imaginative and innovative... looking to a boundless future and going wherever the new technology takes us".

"We are creating experiences through storytelling, and we aspire to keep expanding the universe of our stories," said Mr Oldenburg.

Looking to the future, he said the market for children's content "has not even been tapped yet, and the market is hungry for it". He also believes the market for untethered DMD virtual reality headsets, now taking off on the mainland, is "the most exciting place right now... once you've been there, you won't go back".

Jonathan Flesher, Corporate VP, Global Head of Business Development & Partnerships, Baobab Studios, said the California VR animator is "taking audiences into worlds that don't otherwise exist", with award-winning credits including Invasion, Asteroids! and the upcoming Rainbow Crow.

"Virtual reality is still [in] very early [stages]," he said. "We don't have a framework. It's an entirely new challenge. You can watch a film, play a game or kindly help someone in real life; virtual reality combines all three, the empathy for characters in a film, the engagement of challenges in gaming and our basic human compassion in the real world. It's so new that nobody knows anything yet, including us. But it will have a big impact on the future. Traditional animation just feels so flat now."

- Cross-border cooperation

With generous tax breaks for the animation and VR sector, France is an emerging conduit, or "secret weapon", for attracting VR production development, noted Corentin Lambot, Producer, Atlas V, a start-up representing the industry's new 'French connection'.

Collaborating with foreign studios is therefore a niche that French animators are actively seeking, in collaborative projects seeking outsourced content. "The French market is too small to be profitable, but our CNC [computer numerical control] tax breaks make us competitive in the global market," he said. "Through collaborations, we can compete."

The start-up's first US collaboration BattleScar, an immersive, coming-of-age animation about runaways on New York's Bowery punk scene, made an impressive start, having showcased at the Sundance and Tribeca film festivals this year. A second US co-production, Spheres, an interactive space journey into a 'black hole', also scooped a major international distribution deal. "These are positive signs of opportunity for any start-ups in the VR industry," he said.

- Driving a new revolution

Francois Klein, VR Producer, DVgroup, said the independent Paris digital and VR innovation studio's signature is "forging visionary high-resolution VR content around unique narrative, constantly mixing different genres and formats".

Credits include the multi-award winning interactive VR experience Alice: The Virtual Reality Play, which may point to the future of storytelling as a complete VR experience, immersing viewers in a virtual scene where they can interact physically, in real time, with characters and objects. In this scenario, the viewer understands progressively that they are Alice, and that they must, just like Lewis Carroll's heroine, engage with the characters she meets.

"Original content is the key," he said. "Financing is always challenging for sure, but VR and AR will be the drivers behind a new computer revolution." The stage is set, he said, "for a very exciting future".

FILMART website: www.hkfilmart.com/filmart
Entertainment Expo website: http://www.eexpohk.com
Photo Download: https://bit.ly/2I5A7JE


About HKTDC

Established in 1966, the Hong Kong Trade Development Council (HKTDC) is a statutory body dedicated to creating opportunities for Hong Kong's businesses. With 50 offices globally, including 13 on the Chinese mainland, the HKTDC promotes Hong Kong as a platform for doing business with China, Asia and the world. With more than 50 years of experience, the HKTDC organises international exhibitions, conferences and business missions to provide companies, particularly SMEs, with business opportunities on the mainland and in international markets, while providing business insights and information via trade publications, research reports and digital channels including the media room. For more information, please visit: www.hktdc.com/aboutus. Follow us on Google+, Twitter@hktdc, LinkedIn.

Contact:

HKTDC 
Comms & Public Affairs Dept.
Banbi Chan
Tel: +852 2584 4525, Email: banbi.yc.chen@hktdc.org
Sunny Ng
Tel: +852 2584 4357, Email: sunny.sl.ng@hktdc.org

Mar 27, 2018 17:00 HKT/SGT
Source: HKTDC
Topic: Trade Show or Conference
Sectors: Broadcast
http://www.acnnewswire.com
From the Asia Corporate News Network
Copyright © 2019 ACN Newswire. All rights reserved. A division of Asia Corporate News Network.
Multimedia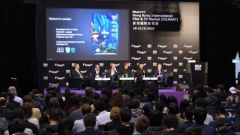 This brave new world and its historic influence on film-making is explored by a panel of top international animation executives at a 21 March seminar themed "VR/AR: How Will This Change the Animation Industry", held during the HKTDC Hong Kong International Film & TV Market (FILMART) 2018 (19-22 March).
View Image
HKTDC
Jan 21, 2019 19:00 HKT/SGT
HKTDC Education & Careers Expo Opens on Thursday
Jan 17, 2019 20:00 HKT/SGT
Hong Kong Fashion Week for Fall/Winter Closes
Jan 16, 2019 17:00 HKT/SGT
3,300+ Finance, Business Leaders Join Asian Financial Forum
Jan 15, 2019 18:00 HKT/SGT
Hong Kong Fashion Week for Fall/Winter Is Under Way
Jan 14, 2019 19:00 HKT/SGT
12th Asian Financial Forum Opens
Jan 14, 2019 18:00 HKT/SGT
Hong Kong Fashion Week Opens with 1,400 Exhibitors
Jan 10, 2019 20:00 HKT/SGT
130,000+ Buyers Visit First Four HKTDC Fairs of 2019, Up 3.3%
Jan 9, 2019 21:00 HKT/SGT
Asia's Largest Licensing Show Attracts 23,000 Visitors
Jan 9, 2019 16:00 HKT/SGT
Future for Toy Industry 'Challenging but Bright'
Jan 8, 2019 14:00 HKT/SGT
Asian Licensing Conference Gathers Global Experts
More news >>