| | |
| --- | --- |
| Wednesday, 28 March 2018, 15:20 HKT/SGT | |


Source: DHL
- Expanded DHL ServicePoint model is now available in 150 SE-ED locations across Thailand, bringing the total number of ServicePoints to over 500 locations
- Partnership to expand to all 394 branches by 2018
- Shoppers will be able to select a DHL ServicePoint as an alternative and convenient collection point



BANGKOK, Mar 28, 2018 - (Media OutReach) -

DHL eCommerce, a division of the world's leading logistics company, Deutsche Post DHL Group, has partnered with SE-ED Book Center to provide greater choice and convenience for sellers and consumers in Thailand. Through this partnership, ServicePoints will be available at 150 SE-ED Book Center locations in Bangkok and across the country; and will be rolled out at all 394 branches by this year. This collaboration is in line with DHL eCommerce's focus to provide the best customer experience in Thailand and its plan to expand the DHL ServicePoint network to over a thousand locations in the coming months.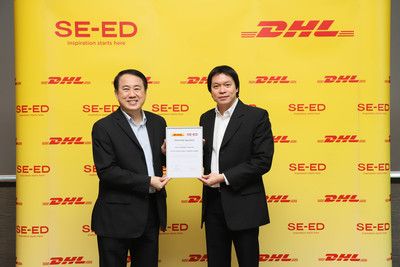 Thanong Chotisorayuth, Managing Director, SE-EDUCATION PCL (Left) and Kiattichai Pitpreecha, Managing Director, DHL eCommerce Thailand & Southeast Asia and (Right)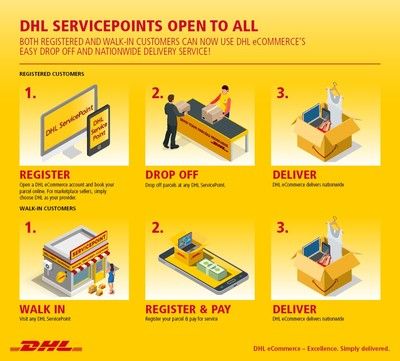 Operating as a 'shop-within-a-shop', the ServicePoints are equipped with state-of-the-art technology where parcels can be processed within seconds and customers will receive immediate shipment confirmation via SMS or email.

"We have witnessed amazingly strong growth since the launch of our domestic delivery network in Thailand two years ago. We stay committed to enhancing our existing solutions; for instance the introduction of the DHL ServicePoint network to serve the growing SME and C2C markets' unmet demands," said Kiattichai Pitpreecha, Managing Director, DHL eCommerce Thailand & Southeast Asia. "We are pleased to be partnering with SE-ED Book Center to offer more parcel drop-off and collection points, all of which are located at major malls or at easily accessible sites to provide a fantastic customer experience. The process at the ServicePoint is quick and hassle free, with no need to stand in long queues."

"We are truly delighted to be working with DHL eCommerce to enable greater choice and convenience not only to the e-commerce community but also our very own retail shoppers. We are convinced with the reliability and affordability of DHL eCommerce's delivery service and we believe this collaboration will benefit both merchants and shoppers to a large extent," said Thanong Chotisorayuth, Managing Director, SE-EDUCATION PUBLIC COMPANY LIMITED. "The plan is to extend this partnership to over 70 provinces in Thailand by the end of this year and in keeping with Thailand's 4.0 initiative, we want to do our part to enable more Thai citizens to embrace e-commerce as much as SE-ED has by bringing our store online. Since the launch of our online store in 2007, we have seen steady increase in sales and we are confident that as long as there's reliable delivery at the backend, e-commerce adoption will rise further."In addition, consumers will soon be able to use SE-ED Book Center outlets as an alternative delivery address for their domestic e-commerce orders. "It is all about keeping the customer at the center of all that we do, and this is another great example of how we are simplifying their lives," Kiattichai said.

"E-Commerce will continue to grow in Thailand and we are committed to enabling a better e-commerce experience for both our sellers and shoppers. As such, we will continue to offer more access points, more payment options and a truly integrated service delivering the highest quality to enable easier and simpler access to the rapidly growing Thai e-commerce ecosystem," added Kiattichai.

DHL eCommerce, operating in Thailand since 2016, is part of Deutsche Post DHL Group. In Thailand, DHL has been present since 1973 with its other divisions DHL Express, DHL Global Forwarding and DHL Supply Chain.

For more information on DHL eCommerce ServicePoints, visit:
Thai: https://bit.ly/2uqKUvQ
English: https://bit.ly/2GwviMe

For more information on DHL eCommerce Domestic Delivery, visit:
Thai: https://bit.ly/2GfStLq
English: https://bit.ly/2Geqtbh

DHL - The logistics company for the world

DHL is the leading global brand in the logistics industry. Our DHL family of divisions offer an unrivalled portfolio of logistics services ranging from national and international parcel delivery, e-commerce shipping and fulfillment solutions, international express, road, air and ocean transport to industrial supply chain management. With about 360,000 employees in more than 220 countries and territories worldwide, DHL connects people and businesses securely and reliably, enabling global trade flows. With specialized solutions for growth markets and industries including technology, life sciences and healthcare, energy, automotive and retail, a proven commitment to corporate responsibility and an unrivalled presence in developing markets, DHL is decisively positioned as "The logistics company for the world".

DHL is part of Deutsche Post DHL Group. The Group generated revenues of more than 60 billion euros in 2017.

SE EDUCATION PCL

SE-ED is one of the largest book publishers in Thailand, publishing books for bookstores nationwide. The Company pioneered in publishing knowledge books in several fields from professional and personal developments to parenting, healthcare, language etc.

SE-ED also operates SE-ED Book Center and network stores and 'University bookstores' located in Bangkok and other provinces. SE-ED Book Centers are medium-sized bookshops selling a wide range of books and are located in leading supercenters, shopping malls and education institutions.

SE-ED seeks to do business in the areas that promote education for knowledge in the fields that is necessary to the development of the nation. It operates in the business that will make 'Smarter Thais' by developing the sustainable business with a continuous earning growth at above the industry's average, being a role-model company that can create work result deems beneficial and accepted by society at large with happy staff, and able to delivery and maintain an attractive long-term investment returns at the satisfactory level.

Media Contact:
DHL eCommerce
Media Relations
Cheryl Han / Monica Ng
Phone: +65 6879 8012 / +65 6879 8011
Email:

[email protected]

/

[email protected]



Brand Now Co., Ltd.
Napaporn Sartjumroen
Phone: +66 99 2584428 / +66 2 1054217
Email:

[email protected]



Kittima Kaur
Phone: +66 81 8262399
Email:

[email protected]





Mar 28, 2018 15:20 HKT/SGT
Topic: Press release summary
Sectors: Transportation/Logistics
http://www.acnnewswire.com
From the Asia Corporate News Network



Copyright © 2020 ACN Newswire. All rights reserved. A division of Asia Corporate News Network.



DHL
Aug 29, 2018 10:20 HKT/SGT
DHL eCommerce goes green in Malaysia and Vietnam
Aug 22, 2018 12:20 HKT/SGT
DHL eCommerce and Kasemchaifood hatches new plan to deliver farm fresh eggs direct to consumers within 24 hours
Aug 20, 2018 17:00 HKT/SGT
DHL Global Forwarding makes key appointments in Bahrain, Kuwait and Morocco
Aug 15, 2018 14:30 HKT/SGT
DHL eCommerce Integrated on Shopee, Offering Malaysians Next-Day Delivery Service
Aug 8, 2018 17:40 HKT/SGT
DHL Global Forwarding announces key leadership appointments in Oman, Qatar and Egypt
Aug 6, 2018 18:00 HKT/SGT
Deutsche Post DHL Group and the United Nations Development Programme scale up airport disaster preparedness training in India
Aug 6, 2018 15:30 HKT/SGT
Disadvantaged schoolchildren get boost from DHL Express
Aug 5, 2018 17:00 HKT/SGT
Hokkaido's endangered bears keep their cool with DHL en route to Yorkshire Wildlife Park
Aug 2, 2018 11:30 HKT/SGT
DHL Global Forwarding launches dedicated "cold chain" warehouse to support Indonesia's expanding life sciences industry
July 17, 2018 11:00 HKT/SGT
Bunzl chooses DHL Global Forwarding to keep essentials flowing to Australia and New Zealand
More news >>