| | |
| --- | --- |
| Wednesday, 28 March 2018, 19:00 HKT/SGT | |


Source: HKTDC
Sponsored by i.t apparels Ltd, Local Celebrities Join Launch



HONG KONG, Mar 28, 2018 - (ACN Newswire) -

The capsule collection designed by the winner of the "Best Footwear Design Award" at last September's Hong Kong Young Fashion Designers' Contest 2017 (YDC) was launched today. Up-and-coming fashion designer Jason Lee won the "Best Footwear Design Award," sponsored by renowned fashion group i.t apparels Ltd.

To help Hong Kong young designers realise their potential, the Hong Kong Trade Development Council (HKTDC) has partnered with i.t in providing more publicity channels and opportunities for designers to present their creations. As award sponsor, i.t worked with Jason Lee to develop a limited edition "ete! x YDC Best Footwear Design Award Capsule Collection," with one of its brands - ete! supporting the production and launch. The collection is available at selected ete! and i.t shops starting today, while stocks last.

Cantopop band Super Girls members Heidi Lee and Aka Chio, Internet celebrity To Siu Kiu, and model Hilary Lau attended today's launch to lend their support. The collection, "I go to school by bus," comprises two styles of sneakers and two styles of bags. The designer aimed to re-live happy school memories through this mini collection. The sneakers are a playful twist of the classic style with L (for left) and R (for right) printed on the "wrong" shoe. The words "LUNCH BAG," are emblazoned on the tote bags, again harking back to care-free school days. The shoes come in pink and black high-tops, as well as green and black low-cut sneakers. The black and red-and-white totes allow wearers to mix and match.

The "Best Accessories Design Award" was a new category introduced at the HKTDC YDC 2015. Sponsored by i.t apparels Ltd., the award recognises outstanding footwear design by up-and-coming designers. Entries are judged based on creativity, handicraft, materials and market factors.

"ete! x YDC Best Footwear Design Award Capsule Collection" for women is available at selected ete! and i.t shops from 28 March 2018.

ete!: THE ONE, Langham Place
i.t: i.t blue block, Hysan Place, Silvercord, Festival Walk, APM, New Town Plaza I

Biography - Jason Lee

A fashion graduate of the Technological and Higher Education Institute of Hong Kong (THEI), Jason Lee was the winner of "The Best Footwear Design Award" at the 2017 Hong Kong Young Fashion Designers' Contest organised by the Hong Kong Trade Development Council (HKTDC). His debut collection "Kingdom of the Underground" combines elements of Chinese culture from the Qing Dynasty and street fashion. He was also named second runner-up at THEI's graduate show in the same year. In 2018, Jason Lee started his own label, which reflects the rebellious thinking of today's young people and Hong Kong's unique street culture.

About "Hong Kong Young Designers' Contest" (YDC)

Organised since 1977, the Hong Kong Young Fashion Designers' Contest (YDC) aims to cultivate and promote a new generation of fashion design talents for the local garment and fashion industry, whose ideas will further enhance the image of Hong Kong as a fashion design centre.

Today, Hong Kong has become a thriving hub for design and branded labels, and the role of the YDC in identifying talent is more pronounced than ever. The contest has become the most prestigious event of its kind in the region. Its success is evident by the number of past contestants who have gone on to become leading designers for fashion enterprises or to launch their own labels.

YDC 2018 is now open for application until 12 April 2018. For details, please visit: http://www.fashionally.com/ydc_application

Related website:
FASHIONALLY: www.fashionally.com

Photo Download:
https://bit.ly/2J34emb
https://we.tl/NXyHnM8bjp
http://bit.ly/2tYt6Il

About FASHIONALLY.com

Powered by the Hong Kong Trade Development Council (HKTDC), FASHIONALLY.com is the one and only platform to feature Hong Kong fashion design. This non-profit website connects young local designers, showcasing their works through feature stories, blogs, fashion map and news about the Hong Kong Yong Fashion Designers' Contest (YDC).


About HKTDC

Established in 1966, the Hong Kong Trade Development Council (HKTDC) is a statutory body dedicated to creating opportunities for Hong Kong's businesses. With more than 40 offices globally, including 13 on the Chinese mainland, the HKTDC promotes Hong Kong as a platform for doing business with China, Asia and the world. With more than 50 years of experience, the HKTDC organises international exhibitions, conferences and business missions to provide companies, particularly SMEs, with business opportunities on the mainland and in international markets, while providing business insights and information via trade publications, research reports and digital channels including the media room. For more information, please visit: www.hktdc.com/aboutus. Follow us on Google+, Twitter @hktdc, LinkedIn.
- Google+: https://plus.google.com/+hktdc
- Twitter: http://www.twitter.com/hktdc
- LinkedIn: http://www.linkedin.com/company/hong-kong-trade-development-council

Contact:

HKTDC 
Comms & Public Affairs Dept.
Agnes Wat
Tel: +852 2584 4554, Email: agnes.ky.wat@hktdc.org
i.t
Jack Cheung
Tel: +852 3199 0442, Email: jackpyc@ithk.com

Mar 28, 2018 19:00 HKT/SGT
Source: HKTDC
Topic: Press release summary
Sectors: Fashion/Apparel, Retail/eCommerce, Local
http://www.acnnewswire.com
From the Asia Corporate News Network
Copyright © 2018 ACN Newswire. All rights reserved. A division of Asia Corporate News Network.
Multimedia
"ete! x YDC Best Footwear Design Award Capsule Collection" Canvas High-Top Sneakers: HK$899; Canvas Low-Cut Sneakers: HK$799
View Image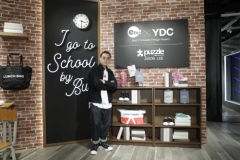 Hong Kong Young Designers' Contest (YDC) Award-winning Capsule Collection Goes on Sale
View Image
HKTDC
July 20, 2018 17:30 HKT/SGT
Technology Seen to Create New Opportunities for Publishing
July 18, 2018 20:00 HKT/SGT
29th Hong Kong Book Fair Opens with Record 680 Exhibitors from 39 Countries
July 18, 2018 16:00 HKT/SGT
Hong Kong Sports and Leisure Expo Opens Today
July 13, 2018 12:00 HKT/SGT
Hong Kong Fashion Week Unveils the Next Wave in Technology
July 12, 2018 19:30 HKT/SGT
"Belt and Road Journey" Youth Exchange Programme Kicks Off
July 12, 2018 19:00 HKT/SGT
Hong Kong Fashion Week for Spring/Summer Concludes
July 9, 2018 20:30 HKT/SGT
Readers Invited to Explore the World at Hong Kong Book Fair
July 9, 2018 20:00 HKT/SGT
Hong Kong Fashion Week for Spring/Summer Opens
July 3, 2018 18:00 HKT/SGT
Young Writers to Share Creative Journeys at Hong Kong Book Fair
June 28, 2018 20:00 HKT/SGT
Third Belt and Road Summit Held in Hong Kong
More news >>