TOKYO, Apr 2, 2018 - (JCN Newswire) -

Showa Denko ("SDK"; TSE:4004) today held a ceremony for newly-hired employees. At the ceremony, Kohei Morikawa, President and CEO, gave a message as summarized below:

To fulfill our vision

2018 is the final year of the period to carry out the Showa Denko Group's medium-term business plan "Project 2020+." These days, it is difficult to forecast economic and market environments. Moreover, economic environment rapidly changes, and global competition is intensifying. Under these circumstances, in order to remain undefeated, the Showa Denko Group must grasp changes in wind direction in its business environment, and have corporate character which can immediately cope with any wind direction and maintain high-levels of profitability and stability concurrently.

All of our stake holders expect us to prosper "now" and "in the future." It is not too much to say that whether the Group can prosper in the future or not rests on shoulders of you who joined us today. I hope you to bring the Group a wind of change.

Three actions I hope you will take

I request you to take three actions as in below.

1. Put "think" into practice
I ask you to think "What do I want to do?" and "What can I do?" for the growth of the Company and yourself. Even thinking about trifling or small things can work. I also ask you to embody your thinking step-by-step. Mr. Nobuteru Mori, the founder of SDK, had a motto of "Dauntlessness and Indomitableness." I hope that you keep a mind of "never-give-up" and add to it flexible thinking, thereby producing many alternatives that lead to future prosperity.

2. Enjoy "changes"
Under the circumstances where market environment and society change dramatically, we must continue changing ourselves freely. Those who can change themselves can change the Company and society. Please rise to a crisis, have no fear of changes, and rather, enjoy changes.

3. Communicate actively
The Group has diverse human resources, products, and technologies. In order to make the most of them and bring innovations to society, every employee must "communicate" actively with each other, respect individuality, and work cooperatively. I hope you establish an identity to "communicate" actively with people around you.


About Showa Denko K.K.

Showa Denko K.K. (SDK; TSE:4004, ADR:SHWDY), a major manufacturer of chemical products, serves a wide range of fields from heavy industry to electronics and computer industries. The Petrochemicals Sector provides cracker products such as ethylene and propylene, the Chemicals Sector provides industrial, high-performance and high-purity gases and chemicals for semicon and other industries, and the Inorganics Sector provides ceramic products, such as alumina, abrasives, refractory and graphite electrodes and fine carbon products. The Aluminum Sector provides aluminum materials and high-value-added fabricated aluminum, the Electronics Sector provides HD media, compound semiconductors such as ultra high-bright LEDs and rare earth magnetic alloys, and the Advanced Battery Materials Department (ABM) provides lithium-ion battery components. For more information, please visit www.sdk.co.jp/english/.

Contact:
Public Relations Office
Phone: 81-3-5470-3235

Apr 2, 2018 11:00 HKT/SGT
Source: Showa Denko K.K.
Showa Denko K.K. (TSE: 4004)
Topic: Press release summary
Sectors: Chemicals
http://www.acnnewswire.com
From the Asia Corporate News Network
Copyright © 2019 ACN Newswire. All rights reserved. A division of Asia Corporate News Network.
Multimedia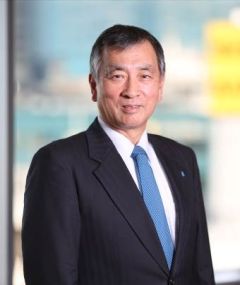 Kohei Morikawa, Showa Denko President and CEO
View Image
Showa Denko K.K.
May 9, 2019 14:00 HKT/SGT
Showa Denko Announces 2019 First Quarter Financial Results
May 9, 2019 14:00 HKT/SGT
Showa Denko Introduces SAP S/4HANA as Next-Generation ERP System
May 9, 2019 14:00 HKT/SGT
SDK to Improve Carbon Division's Production Sites in Europe
Apr 25, 2019 10:30 HKT/SGT
Showa Aluminum Can to Establish Third Production Base in Vietnam and Expand Existing Can End Production Lines
Apr 23, 2019 12:00 HKT/SGT
Showa Denko Starts Service to Measure Performance of Noxious-GHG Removal Equipment
Apr 16, 2019 11:00 HKT/SGT
SDK Group Starts Mass Production of Liquefied Carbon Dioxide in Oita Petrochemical Complex
Apr 10, 2019 10:00 HKT/SGT
SDK and IBM Develop AI-Based Patent Interpretation Support System
Apr 1, 2019 11:00 HKT/SGT
Outline of Showa Denko CEO Message at Initiation Ceremony
Mar 5, 2019 16:30 HKT/SGT
Showa Denko Revises Board Benefit Trust
Feb 21, 2019 13:00 HKT/SGT
SDK to Begin Shipment of MAMR-Technology-based HD Media
More news >>