| | |
| --- | --- |
| Sunday, 8 April 2018, 21:00 HKT/SGT | |


Source: HKTDC
Spotlight on Smart Cities, IoT and Connected Technologies as sixth Lighting Forum is held during HKTDC Hong Kong International Lighting Fair (Spring Edition), 6 to 9 April



HONG KONG, Apr 8, 2018 - (ACN Newswire) -

Lighting innovations including 'smart lampposts' and variable street lighting were in focus at the Asian Lighting Forum 2018, which showcased trends of the future and illustrated how 'smart city' approaches are already being adopted by lighting developers and manufacturers around the world, including Hong Kong.

The sixth Asian Lighting Forum, comprised of busy morning and afternoon sessions, was staged on the opening day of this year's HKTDC Hong Kong International Lighting Fair (Spring Edition), held 6 to 9 April at the Hong Kong Convention and Exhibition Centre (HKCEC).

Smart Lighting in daily life--

In the a.m. session, smart lighting, connected lighting and the Internet of Things (IoT) were expressed in terms of daily application. Kai Ren, Developer Relations Manager for APAC at Bluetooth SIG, the custodian of the Bluetooth Standard, said, "After twenty years, Bluetooth suddenly developed a new mesh technology to provide users with new ways of connecting to the world. Bluetooth's 'roadmap' allows for any devices to stream all-important data, while 'data transfer' allows for low-power, global interoperability, and its 'location service' provides universal deployment through its beacon broadcast."

Mr Kai underlined,"the significance of this latest Mesh networking release in July 2017, which enables many-to-many (m:m) device communications and is optimized for creating large-scale device networks. Bluetooth Mesh can truly open doors for the lighting industry as an industrial grade solution," he said. Commercial building and factory automation represent major market opportunities for wireless mesh networking technologies.

For Bluetooth Mesh, "interoperability is all important, including protection from so-called 'trash can attacks' to allow users the confidence to dispose of components knowing they cannot be hacked when they reach the end of their operating lives. Bluetooth beacons allow for full automation at home or in the factory, including for Artificial Intelligence (AI). Bluetooth Mesh also provides data for lighting platforms "from top to bottom" in global lighting processes, said Mr Kai.

IoT trends, smart lampposts--

Ms Wincy Chan, IoT Ecosystem Lead, Asia for Microsoft, said "IoT technologies are now in every industry, including devices and solutions," as she discussed IoT trends and smart lighting usage for city, work and home. She said "smart lighting is more than turning on lights and turning off lights. 'Things' are now connected with data analytics. Looking at the foundation of a smart city, you need certain ingredients. For example, with connected lampposts, one of the main concerns is to cut costs, Countries need to save energy but also provide lighting information."

"One trend is for anticipating when light bulbs have problems. If you have IoT machine learning technology, you can collect all the data on the light bulb through remote monitoring and before a problem happens you can solve it, through this trend." She pointed to Microsoft's partnership with IT consultant CGI Group in Europe to introduce public lighting and energy saving solutions - including automatically diminishing streetlights that were now being deployed in Europe, especially in Germany.

"Remote monitoring can dim lights and save energy - highways don't need the same lighting all the time. On the other hand, lighting can guide the public to their homes, which is an intelligent route to the smart city of the present or the future."

On the prospect of smart lampposts, Ms Chan described how these can also be used as pollution sensors and can include surveillance cameras. Microsoft has been able to reduce energy output of street lighting by 77.13% in one Indian metropolis, a repeatable solution in other Indian cities. Singapore had also introduced smart lampposts.

LED light-emitting diodes could make lighting more cost-efficient in traffic, combined with AI sound collection to alert authorities to incidents. Smart lighting has also made its appearance in retail, navigating shoppers to products on a shopping list, for ease and efficiency of purchases, as illustrated in a short film during Ms Chan's presentation.

Pilot lamppost scheme in Hong Kong --

Nelson Ip, Chief Engineer, Lighting Division for the HKSAR Highways Department, advised that a pilot multifunctional smart lamppost scheme had been introduced to two urban areas - San Po Kong and Kai Tak - involving initially 220 lampposts. "These involve wireless connections, real-time monitoring and remote dimming of lights, using a backend system controlled by smartphone, so that lighting can be dimmed from 100 to 50 to 10%" He pointed out that smart lighting via AI could save lives, by guiding ambulances, alerting authorities to cleaning up neighbourhoods, provide better services and facilitate an easier life.

"Smart City" can facilitate power control, emergency responses, traffic and monitoring environmental parameters and can be open to public engagement. The smart lamppost scheme collects 5G data, enough speed to download a movie in one second," he said. Mr Ip described the extensive nature of Hong Kong's lighting system,"the public lighting system operates 220,000 lighting points in Hong Kong, bigger than any telecom company. The smart lamppost system has a much higher potential for future development." He said that in Hong Kong, "a lot of smart lighting is coming soon."

Wi-Fi in the new era--

In describing the importance of Wi-Fi technology, Derek Feng, DEKRA General Manager,Mainland China & Hong Kong, EMC & Wireless said that while the technology is not unfamiliar -particularly in connecting homes - its capabilities are extremely good. He said the WiFi Alliance founded in 1999 has global associates, with a mission to increase industrial growth, provide an agreed standard and connectivity through testing: "Wi-Fi is one of the success stories of the IT era with eight billion devices used globally."

Mr Feng said that following Wi-Fi capabilities for computers and mobile phones, "there is now a move towards devices for 'smart homes' and later, 'smart communities'." Wi-Fi installation is on a fast growth trend: "IoT simplifies the process of adding devices to a secure Wi-Fi. Under the WiFi Alliance, the vision is to connect everything, everyone, everywhere." He said, "the evolution of lighting now embracing LED offers another leap to intelligent lighting systems, including human centric lighting from service upgrading, connecting with Cloud Data and analytics, as well as lighting asset management."

"Human-centric lighting" and IoT provided lighting, for example, for use in smart refrigerators, air conditioners and air purifiers - using Wi-Fi, said Mr Feng. The certification programme for Wi-Fi already gave consumers confidence in standards, with 10 certificate programmes for areas such as interoperability and high performance. "The programme aims for the best in Wi-Fi home design, including IoT regulatory testing with major lighting names," he said.

City beautification on Chinese mainland--

The p.m. session of the Asian Lighting Forum turned to the lighting outlook in 2018, specifically examining trends. Minna Lai, Director, APAC Research & Development, OSRAM Lighting Solutions, focused on the Chinese mainland, where "most smart cities are growing." Lighting is becoming a major factor for illuminating, visualising and treating the aspirations of smart cities on the mainland. "Since China started urbanisation 30 years ago, the trend has evolved from growth and is shifting to social initiatives. We are talking about communities, with 160 cities in China having populations of one million or more," said Ms Lai.

The competition to stand out from other cities is intensifying, she said. For example, in Wuhan the two rivers and four banks - the confluence of the Yangtse and the Han rivers - provided a huge, synchronised lighting show which has now become a national landmark. Fibre optics and networks feature flying dragons across buildings. In Shanghai, the city's Shanghai Tower features the largest LED ribbon on a single building while the Shenzhen Ping An Tower has the largest billboard in the middle of a city. Also, Zhuhai's Grand Theatre is called the 'pearl on the riverbank'.

"There are trends in city beautification in all these [mainland] cities, using more complex systems and as the scale grows, lighting needs to be more sophisticated. To develop their management we introduced 'SymphoCity' which centralises energy and asset management looking after, for example, the status of devices and a failure reporting platform," Ms Lai explained. OSRAM also introduced other systems such as a centralised system of management and system architecture, feeding into the main control system through wired or wireless connections. It was also necessary to maintain these systems over time through data logging analysis to reduce costs and affect systems maintenance, making changes easier.

Colour coordination --

The future of LED lighting viewed through the lens of colours was a subject addressed by Gauss So, the APAC Manager, Product Marketing of Cree Lighting, tackling the issue of 'seeing true colour'. He said colour quality will be a rising trend over the next few years. "The evolution of LED street lighting, for example, has evolved from very yellow to very blue - and warm colour lighting is where the trend will be going for LED lighting.

"The major issues in colour involved correlated colour temperatures and a colour rendering index, or CRI, to determine the best colours for retail, restaurants and general lighting, for example, while 'efficacy' was important in choosing the appropriate colour intensity for indoor accents and areas as well as street and area lighting," said Mr So.

"Homes have been sacrificing colour for energy saving but a rating of 80 CRI will be a boost for better colour." For street lighting, the trend would be lower for colour quality as efficacy would be the main issue for the future. Other issues would be 'vividness' and 'high fidelity' of colours while the new 'TM 30' metric will help remedy flaws and limitations of the CRI accuracy test," Mr So expected LED will offer red-enhanced lighting to give designers more options for high quality LED.

Upgrading lighting for IoT --

Tackling "lighting in the age of IoT", Vincent Chow, Senior Manager with Philips Lighting Hong Kong Ltd, disclosed that the company spends four per cent of sales on research and development, with many solutions connected to IoT. "This opens the potential to integrate with 'smart city' aspects and unlock extraordinary benefits," he said.

Philips Lighting will shortly be re-named 'Signify', introducing an IoT platform with an innovation strategy for different kinds of activity. "The idea is to interact in an open, scalable programme, activating high quality, real time productions and providing insights to interact," said Mr Chow, referring to interactive offices and cities. In the latter case, street lighting would become more connected, "while the interactive office will become truly smart," he added.

These developments required integrated models and sustainability with solutions leading the way to Cloud-stored data. The interactive city will meanwhile be richer in IoT services. Mr Chow showed a short video about the city and principality of Guadalajara in Spain where lighting took 50% of the city's energy, and smart lighting is expected to save 60% of those costs.

Hong Kong International Lighting Fair (Spring Edition)
www.hktdc.com/hklightingfairse
Date: 6 - 9 April (Fri - Mon)
Product: https://goo.gl/Fi622i
Photos : https://bit.ly/2H2LGEy


About HKTDC

Established in 1966, the Hong Kong Trade Development Council (HKTDC) is a statutory body dedicated to creating opportunities for Hong Kong's businesses. With 50 offices globally, including 13 on the Chinese mainland, the HKTDC promotes Hong Kong as a platform for doing business with China, Asia and the world. With more than 50 years of experience, the HKTDC organises international exhibitions, conferences and business missions to provide companies, particularly SMEs, with business opportunities on the mainland and in international markets, while providing business insights and information via trade publications, research reports and digital channels including the media room. For more information, please visit: www.hktdc.com/aboutus. Follow us on Google+, Twitter@hktdc, LinkedIn.

Contact:

HKTDC
Comms & Public Affairs Department
Sam Ho
+852 2584 4569
sam.sy.ho@hktdc.org

Apr 8, 2018 21:00 HKT/SGT
Source: HKTDC
Topic: Trade Show or Conference
Sectors: Electronics, Const/Eng
http://www.acnnewswire.com
From the Asia Corporate News Network
Copyright © 2019 ACN Newswire. All rights reserved. A division of Asia Corporate News Network.
Multimedia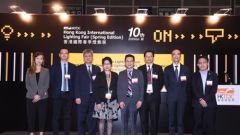 The Asian Lighting Forum 2018 was held on Friday 6 April, with industry experts discussing latest industry developments.
View Image
HKTDC
Jan 21, 2019 19:00 HKT/SGT
HKTDC Education & Careers Expo Opens on Thursday
Jan 17, 2019 20:00 HKT/SGT
Hong Kong Fashion Week for Fall/Winter Closes
Jan 16, 2019 17:00 HKT/SGT
3,300+ Finance, Business Leaders Join Asian Financial Forum
Jan 15, 2019 18:00 HKT/SGT
Hong Kong Fashion Week for Fall/Winter Is Under Way
Jan 14, 2019 19:00 HKT/SGT
12th Asian Financial Forum Opens
Jan 14, 2019 18:00 HKT/SGT
Hong Kong Fashion Week Opens with 1,400 Exhibitors
Jan 10, 2019 20:00 HKT/SGT
130,000+ Buyers Visit First Four HKTDC Fairs of 2019, Up 3.3%
Jan 9, 2019 21:00 HKT/SGT
Asia's Largest Licensing Show Attracts 23,000 Visitors
Jan 9, 2019 16:00 HKT/SGT
Future for Toy Industry 'Challenging but Bright'
Jan 8, 2019 14:00 HKT/SGT
Asian Licensing Conference Gathers Global Experts
More news >>