| | |
| --- | --- |
| Monday, 9 April 2018, 19:30 HKT/SGT | |


Source: HKTDC
Survey: "Cautiously Optimistic" Market Outlook, Bright Future Seen for Smart Lighting



HONG KONG, Apr 9, 2018 - (ACN Newswire) -

The tenth Hong Kong International Lighting Fair (Spring Edition), organised by the Hong Kong Trade Development Council (HKTDC), closed today. The four-day fair (6-9 April) attracted more than 20,500 buyers from 114 countries and regions, as buyer attendance from the United States, Chinese mainland, Taiwan, India, Russia, Malaysia, Singapore and Indonesia recorded satisfactory increases. The fair also gathered a record of 1,350 exhibitors from 13 countries and regions.

HKTDC Deputy Executive Director Benjamin Chau said that the global market is seeing a rising demand for smart lighting products, and he encouraged Hong Kong companies to capitalise on the opportunity by investing more in developing related items. "In response to the market trend, the Smart Lighting & Solutions Zone returned to the fair to showcase to global buyers the latest smart and remote-control lighting systems, accessories and fixtures. The topic of smart lighting was also covered in the seminars and forums held during the fair to help Hong Kong companies better grasp the latest developments in smart lighting technology," said Mr Chau.

Market outlook: cautiously optimistic --

The HKTDC commissioned an independent on-site survey during the fair, interviewing more than 350 exhibitors and buyers about their views on industry prospects. The survey found that the industry is cautiously optimistic about the lighting market in 2018. Fifty-five per cent of respondents anticipate overall sales this year will increase, while 36 per cent expect them to remain unchanged. Forty-six per cent of respondents predict product prices will go up, while 45 per cent believe they will remain unchanged. The industry is most optimistic about the prospect of two emerging markets - Russia and Latin America, followed by Western Europe, India, South Africa and the Chinese mainland.

The survey, which also gauged the industry's views on product trends, found that smart lighting is expected to have promising growth. Seventy-two per cent of respondents are optimistic about the market potential of smart lighting. Smart lighting systems designed for home automation, energy-efficient and wireless controls are seen to have the biggest development potential in next two years.

With the industry showing keen interest in smart lighting, a number of seminars and talks were organised during the fair period to facilitate exchanges on this subject. The Asian Lighting Forum 2018 gathered experts from professional organisations, including Bluetooth Special Interest Group, CREE, Microsoft, Philips, OSRAM and the Hong Kong Highways Department, to discuss everyday applications of smart lighting, connected lighting and IoT, as well as the latest technologies and industry outlook. At another seminar on Artificial Intelligence and Smart Lighting, experts from Zigbee Alliance, Alibaba AI Labs, iFLYTEK, JD Smart, ZTE, Tuya Smart and YEELIGHT discussed ways AI can help enhance smart lighting.

Ideal promotional and sourcing platform --

Optima, a Ukraine trading company that supplies light-emitting diode (LED) outdoor and commercial lighting products to wholesalers and contractors in its country, sourced at the Spring Lighting Fair once again this year after making several visits in the past. Looking mainly for street lights, floodlights and commercial lighting products this time, Director Gorodovyy Radislav placed an on-site order of about US$70,000 for panel lights and office lights with an existing supplier. He also found more than 10 potential suppliers and planned to ask his buying office in Shenzhen to follow up on potential transactions.

Chinese mainland exhibitor Zhejiang Fonda Technology Co Ltd, an outdoor smart lighting solution provider with key customers on the mainland, in Cambodia, Indonesia and Saudi Arabia, had secured a US$2 million order from an Australian buyer at last year's fair, which boost its confidence in developing overseas markets through this platform. Overseas Marketing Director Rose Qiu revealed that this year the company had met with new potential buyers from Australia, Indonesia, Russia and the United Kingdom, and that representatives of the mainland's JD.com and Xiaomi had also visited the company's booth. Among its potential buyers were a Hong Kong street lighting project contractor, who had noticed the company through an HKTDC publication and had attended the fair to view its smart poles and systems. Deals will be discussed, according to Ms Qiu.

Hong Kong International Lighting Fair (Spring Edition)
Date: 6-9 April (Fri-Mon)
Venue: Hall 1A-1E, 3B-3E, HKCEC
Hours: 6-8 April (9:30am-6:30pm) | 9 April (9:30am-5pm)
Fair Website: www.hktdc.com/hklightingfairse
Product Highlights: https://goo.gl/Fi622i

For more comments from exhibitors and buyers, please visit: https://goo.gl/TkzYrP

Photo download: https://bit.ly/2uY2wQ7


About HKTDC

Established in 1966, the Hong Kong Trade Development Council (HKTDC) is a statutory body dedicated to creating opportunities for Hong Kong's businesses. With 50 offices globally, including 13 on the Chinese mainland, the HKTDC promotes Hong Kong as a platform for doing business with China, Asia and the world. With more than 50 years of experience, the HKTDC organises international exhibitions, conferences and business missions to provide companies, particularly SMEs, with business opportunities on the mainland and in international markets, while providing business insights and information via trade publications, research reports and digital channels including the media room. For more information, please visit: www.hktdc.com/aboutus. Follow us on Google+, Twitter@hktdc, LinkedIn.

Contact:

HKTDC
Comms & Public Affairs Department
Sam Ho
Tel: +852 2584 4569
Email: sam.sy.ho@hktdc.org

Apr 9, 2018 19:30 HKT/SGT
Source: HKTDC
Topic: Trade Show or Conference
Sectors: Trade Shows, Electronics, Const/Eng
http://www.acnnewswire.com
From the Asia Corporate News Network
Copyright © 2019 ACN Newswire. All rights reserved. A division of Asia Corporate News Network.
Multimedia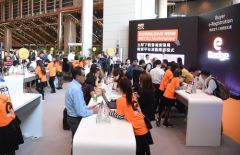 The Spring Lighting Fair introduced the e-Badge initiative, enabling buyers to download the "HKTDC Marketplace" mobile app, complete visitor registration and log in to retrieve an e-Badge. The initiative, offers added convenience, was well received by buyers.
View Image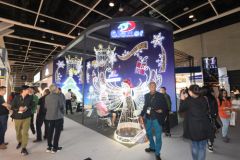 The Hall of Aurora featured 210 brands to showcase a wide array of lighting products and technologies with unique designs and excellent functions.
View Image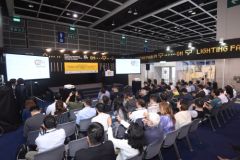 The Asian Lighting Forum 2018 gathered experts and professional organisations, including Bluetooth Special Interest Group, CREE, Microsoft, Philips, OSRAM and the Hong Kong Highways Department, to discuss the everyday applications of smart lighting, connected lighting and IoT, as well as the latest lighting technologies and industry outlook, drawing 430 attendees.
View Image
HKTDC
Jan 21, 2019 19:00 HKT/SGT
HKTDC Education & Careers Expo Opens on Thursday
Jan 17, 2019 20:00 HKT/SGT
Hong Kong Fashion Week for Fall/Winter Closes
Jan 16, 2019 17:00 HKT/SGT
3,300+ Finance, Business Leaders Join Asian Financial Forum
Jan 15, 2019 18:00 HKT/SGT
Hong Kong Fashion Week for Fall/Winter Is Under Way
Jan 14, 2019 19:00 HKT/SGT
12th Asian Financial Forum Opens
Jan 14, 2019 18:00 HKT/SGT
Hong Kong Fashion Week Opens with 1,400 Exhibitors
Jan 10, 2019 20:00 HKT/SGT
130,000+ Buyers Visit First Four HKTDC Fairs of 2019, Up 3.3%
Jan 9, 2019 21:00 HKT/SGT
Asia's Largest Licensing Show Attracts 23,000 Visitors
Jan 9, 2019 16:00 HKT/SGT
Future for Toy Industry 'Challenging but Bright'
Jan 8, 2019 14:00 HKT/SGT
Asian Licensing Conference Gathers Global Experts
More news >>