| | |
| --- | --- |
| Thursday, 3 May 2018, 18:00 HKT/SGT | |


Source: HKTDC
Latest Products, Technology and Startup Zone in Spotlight



HONG KONG, May 3, 2018 - (ACN Newswire) -

The HKTDC Hong Kong International Medical Devices and Supplies Fair (Medical Fair) will take place at the Hong Kong Convention and Exhibition Centre from 7 to 9 May. Organised by HKTDC and co-organised by the Hong Kong Medical and Healthcare Device Industries Association (HKMHDIA), the three-day fair will showcase the latest medical equipment, technology and related services, providing a one-stop business platform for the medical and healthcare industry.

Speaking at today's press conference, HKTDC Assistant Executive Director Sophia Chong said: "Ageing populations and increased health awareness around the world are creating growth potential for the medical equipment and supplies market, an opportunity that should not be missed." Hong Kong's medical equipment and supplies exports reached HK$3 billion in the first three months of 2018, up 5.2 per cent year on year.

Citing Deloitte's 2018 Global Health Care Outlook report, HKMHDIA Chairman Ir Professor Andros Chan noted that global healthcare spending is expected to increase at an annual rate of 4.1% from 2017 to 2021, indicating good prospects for the market.

Record-breaking fair scale

The Medical Fair attracted more than 10,000 buyers last year. This year, the fair will feature a record of 280 exhibitors from 12 countries and regions. The fair will welcome new group pavilions from Taiwan, Guangdong Association for Medical Devices Industry from the Chinese mainland and SoCalBio from the US, as well as returning enlarged pavilions from the Czech Republic, the Wielkopolska region of Poland and Ningbo Association for Medical Devices Industry from the Chinese mainland. HKMHDIA will once again organise a group pavilion comprising 38 companies.

With the rapid technological development, the medical industry also keeps pace to innovate by leveraging technological advantages. "The HKTDC has been providing support to start-ups. Innovation and technology is also an important driving force for the medical devices and supplies industry. Therefore, the Medical Fair will continue to feature the Startup zone this year, providing an ideal platform for startups to present their creative ideas and meet potential suppliers, buyers and investors," said Ms Chong.

Participating startups will bring a range of innovative products and services, such as artificial intelligence robots and medical service platforms, automatic shower devices and anti-snoring sleeping masks. Another highlight zone, Tech Exchange, will feature a number of higher education institutions to present the latest technology or prototypes.

Specialised zones for easy sourcing

A total of 18 thematic zones will be set up to facilitate sourcing at the fair. The World of Health & Wellness will return to present healthcare products and services including fitness products, functional food and beverages, and health supplements. The Rehabilitation and Elderly Care zone will showcase products and services for elderly care and rehabilitation, such as wheelchairs, crutches, orthopaedic instruments and health monitoring equipment.

The Hospital Equipment zone will showcase specialist technology including ultrasound and other imaging equipment, as well as a range of surgical instruments. The Building Technology and Hospital Furniture zone will focus on hospital construction and design, as well as security systems and medical beddings.

Exploring medical industry trends

A series of seminars will be held during the fair to examine a range of industry topics, including trends in medtech and smart healthcare, as well as updates on procurement guidelines and medical device regulations. Experts from the Czech Republic pavilion will present their latest innovations in medical equipment and services. The Hong Kong Health Care Federation and Hong Kong Doctors Union will conduct workshops to discuss the interpretation of medical device Marketing Authorization Holder (MAH) system and management of acute coronary syndrome.

The Hospital Authority Convention 2018 (7-8 May), another influential event for medical professionals in the Asia Pacific region, will be held on the first two days of the Medical Fair at the HKCEC, creating strong synergy with the fair. Over 5,000 attendees are expected to join the event, while some 90 distinguished overseas and local speakers will share their professional insights.

Highlighted Products: https://goo.gl/QiV77s
Fair website: www.hktdc.com/hkmedicalfair/
Photo Download: https://bit.ly/2HKkKdT


About HKTDC

The Hong Kong Trade Development Council (HKTDC) is the dedicated to creating opportunities for Hong Kong's businesses. With more than 40 offices globally, including 13 on the Chinese mainland, HKTDC promotes Hong Kong as a platform for doing business with China, Asia and the world. HKTDC organises international exhibitions, conferences and business missions to provide companies, particularly SMEs, with business opportunities on the mainland and in international markets, while providing business insights and information via trade publications, research reports and digital channels including the media room. Please visit www.hktdc.com/aboutus or follow us on Google+, [email protected], LinkedIn.

Contact:
Selina Fan, Tel: +852 2584 4898, Email: 

[email protected]



May 3, 2018 18:00 HKT/SGT
Source: HKTDC
Topic: Trade Show or Conference
Sectors: Trade Shows, HealthCare
http://www.acnnewswire.com
From the Asia Corporate News Network
Copyright © 2018 ACN Newswire. All rights reserved. A division of Asia Corporate News Network.
Multimedia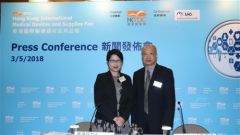 Hong Kong Trade Development Council (HKTDC) Assistant Executive Director Sophia Chong (L) and Hong Kong Medical and Healthcare Device Industries Association Chairman Ir Professor Andros Chan (R) introduce highlights of the Medical Fair at today's press conference.
View Image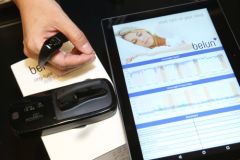 The Belun Ring monitors the user's heart rate, blood oxygen saturation level and body movements to help doctors diagnose obstructive sleep apnoea and gauge treatment performance. (Exhibitor: Belun Technology Company Limited; Booth no.: 3F-H03)
View Image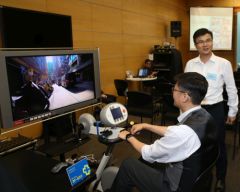 Bike Labyrinth displays scenic routes in front of the home trainer, allowing disabled people to enjoy a bike ride around the world and making exercise a fun experience and it is widely used in rehabilitation and elderly care facilities. (Exhibitor: Janley Ltd; Booth no.: 3F-G03)
View Image
HKTDC
Oct 15, 2018 19:20 HKT/SGT
11th HKTDC International Wine & Spirits Fair Opens Early November
Oct 15, 2018 16:00 HKT/SGT
HKTDC Hong Kong Electronics Fair: Keys to Success in Use of Artificial Intelligence
Oct 14, 2018 17:00 HKT/SGT
HKTDC Hong Kong Electronics Fair: Symposium on Innovation & Technology
Oct 13, 2018 17:00 HKT/SGT
Autumn Electronics Fair & electronicAsia Open in Hong Kong
Oct 10, 2018 20:00 HKT/SGT
HKTDC's Response to Chief Executive's Policy Address
Oct 9, 2018 20:00 HKT/SGT
Energy-saving Products and Green Tech at Eco Expo Asia
Oct 3, 2018 17:00 HKT/SGT
"Think Global, Think Hong Kong" to Run in Tokyo on 1 November
Sept 26, 2018 19:00 HKT/SGT
HKTDC Hong Kong Electronics Fair, electronicAsia Open in October, Start-ups in Focus
Sept 21, 2018 22:00 HKT/SGT
Over 2,900 Took Part in "In Style, Hong Kong"
Sept 20, 2018 21:00 HKT/SGT
HKTDC "In Style, Hong Kong" Opens in Ho Chi Minh City
More news >>