- Electric Compressor for Automotive Air Conditioners Compliant with Standard for In-Vehicle Software Development -

- Enhances MTH's overall competitiveness in Europe and global markets
- More advanced in-vehicle device software development process in line with the rapid computerization of automobiles



TOKYO, May 24, 2018 - (JCN Newswire) -

MHI Thermal Systems, Ltd. (MTH), a Group company of Mitsubishi Heavy Industries, Ltd. (MHI), has received certification for its electric compressor for automotive air conditioners as compliant with Version 3 (Level 3) of Automotive SPICE (Software Process Improvement and Capability dEtermination), the industry standards for the in-vehicle software development process jointly formulated by European car manufacturers (finished vehicles). Certification was provided by DNV GL, a third-party certifying body based in Norway, and will enhance MTH's overall competitiveness in Europe and the global market.

The certification for Automotive SPICE Ver. 3 verifies Level 3 compliance for 17 processes, including project management, software requirement analysis, software architecture design, software integration and integration testing, software competency testing, and quality assurance.
MHI Thermal Systems merged with MHI Automotive Thermal Systems, Co., Ltd. (MCCJ), a specialist in automotive air-conditioning systems, effective January 1, 2018. The consolidation of technologies and business resources broadened the business scope and enhanced efficiency, and the company has worked to strengthen its global competitiveness. This certification is a reflection of those measures, and going forward MTH will utilize its objectively verified advanced technology development capabilities to target the automobile manufacturers for whom Automotive SPICE Ver. 3 certification is an essential requirement in a supplier, and uncover demand in Japanese and overseas markets for increasingly sophisticated car air conditioner electronic control technologies.


About Mitsubishi Heavy Industries, Ltd.

Mitsubishi Heavy Industries (MHI) Group is one of the world's leading industrial firms. For more than 130 years, we have channeled big thinking into solutions that move the world forward - advancing the lives of everyone who shares our planet. We deliver innovative and integrated solutions across a wide range of industries, covering land, sea, sky and even space. MHI Group employs 80,000 people across 400 locations, operating in three business domains: "Power Systems," "Industry & Infrastructure," "Aircraft, Defense & Space." We have a consolidated revenue of around 40 billion U.S. Dollars. We aim to contribute to environmental sustainability while achieving global growth, using our leading-edge technologies. By bringing people and ideas together as one, we continue to pave the way to a future of shared success.

For more information, please visit MHI's website: https://www.mhi.com
For Technology, Trends and Tangents, visit MHI's new online media SPECTRA: https://spectra.mhi.com

Contact:

Joseph Hood, PR Manager
Mitsubishi Heavy Industries, Ltd.
Email: mhi-pr@mhi.co.jp
Tel: +81-(0)3-6716-2168
Fax: +81-(0)3-6716-5860

May 24, 2018 11:12 HKT/SGT
Source: Mitsubishi Heavy Industries, Ltd.
Topic: Press release summary
Sectors: Automotive, Engineering
http://www.acnnewswire.com
From the Asia Corporate News Network
Copyright © 2019 ACN Newswire. All rights reserved. A division of Asia Corporate News Network.
Multimedia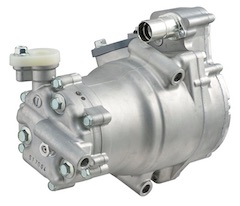 Electric Compressor for Automotive Air Conditioners
View Image
Mitsubishi Heavy Industries, Ltd.
Feb 22, 2019 12:43 HKT/SGT
Mitsubishi Shipbuilding Holds Christening Ceremony for Next-Generation LNG Carrier "MARVEL CRANE"
Feb 20, 2019 10:21 HKT/SGT
MHI Thermal Systems Establishes Centrifugal Chiller, Air-Conditioner and Heat Pump Water Heater Construction and Engineering Company in China
Feb 19, 2019 12:40 HKT/SGT
Mitsubishi Heavy Industries Signs LOI to Join Charter of Trust for Cybersecurity
Feb 12, 2019 11:35 HKT/SGT
MHI: Six More Cars to be Delivered for "New Shuttle" AGT Line in Saitama
Feb 6, 2019 13:16 HKT/SGT
MHI's Notice Concerning Change to Advisors System
Feb 6, 2019 11:04 HKT/SGT
MHI Appoints Seiji Izumisawa as President & CEO, CSO, Announces Changes in Board and Executive-level Personnel
Jan 31, 2019 10:53 HKT/SGT
MHI Thermal Systems to Strengthen Sales Network for Air-Conditioning and Refrigeration Business in Turkey
Jan 31, 2019 10:35 HKT/SGT
MHI and Weir Partnership to Supply Pumps for Hinkley Point C
Jan 31, 2019 09:12 HKT/SGT
Additional Cars Ordered for Mitsubishi Heavy Industries America's SkyConnect APM System at Tampa International Airport
Jan 28, 2019 11:55 HKT/SGT
MHI: Lineup of Diesel Engines for Power Generation Made and Sold in China to Undergo Major Expansion
More news >>