Hanacans to establish production system with annual capacity of 2 billion cans



TOKYO, June 11, 2018 - (JCN Newswire) -

Showa Denko (SDK; TSE:4004) subsidiary Showa Aluminum Can Corporation (SAC), headquartered in Shinagawa, Tokyo, has completed construction of a new factory in Da Nang City, Quang Nam Province, mid-Vietnam, for its subsidiary Hanacans, holding a completion ceremony for the new facility on June 8. (See "Showa Aluminum Can to Establish Second Production Base in Vietnam", Feb 14, 2017)

The new Hanacans factory is its second production base in Vietnam, with an annual production capacity of 700 million aluminum can bodies. To increase the overall capacity of its lines, Hanacans is working towards the production of can ends at its factory in Bach Nin Province, suburban Hanoi. When work is finished in October, total capacity of the two factories, for can bodies and can ends, will reach 2 billion cans a year.

Since its acquisition of Hanacans JSC in May 2014, SAC has introduced its leading-edge production technologies and quality control system, successfully increasing sales throughout the northern part of the country. SAC hopes to achieve further increases in sales in mid-Vietnam through its efforts to make Hanacans' new production line the finest in the region, offering superior products and answering the needs of the market.


About Showa Denko K.K.

Showa Denko K.K. (SDK; TSE:4004, ADR:SHWDY), a major manufacturer of chemical products, serves a wide range of fields from heavy industry to electronics and computer industries. The Petrochemicals Sector provides cracker products such as ethylene and propylene, the Chemicals Sector provides industrial, high-performance and high-purity gases and chemicals for semicon and other industries, and the Inorganics Sector provides ceramic products, such as alumina, abrasives, refractory and graphite electrodes and fine carbon products. The Aluminum Sector provides aluminum materials and high-value-added fabricated aluminum, the Electronics Sector provides HD media, compound semiconductors such as ultra high-bright LEDs and rare earth magnetic alloys, and the Advanced Battery Materials Department (ABM) provides lithium-ion battery components. For more information, please visit www.sdk.co.jp/english/.

Contact:

Public Relations Office
Phone: 81-3-5470-3235

June 11, 2018 13:00 HKT/SGT
Source: Showa Denko K.K.
Showa Denko K.K. (TSE: 4004)
Topic: Press release summary
Sectors: Metals/Mining, Chemicals, Print/Package
http://www.acnnewswire.com
From the Asia Corporate News Network
Copyright © 2019 ACN Newswire. All rights reserved. A division of Asia Corporate News Network.
Multimedia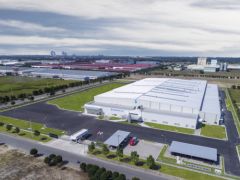 Hanacans' second factory in Da Nang City, Quang Nam Province, Vietnam.
View Image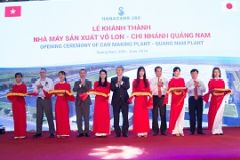 Ceremony for the factory completion. Hideo Ichikawa, SDK Chairman, cntr.
View Image
Showa Denko K.K.
Mar 5, 2019 16:30 HKT/SGT
Showa Denko Revises Board Benefit Trust
Feb 21, 2019 13:00 HKT/SGT
SDK to Begin Shipment of MAMR-Technology-based HD Media
Feb 14, 2019 14:00 HKT/SGT
SDK Records Impairment Loss (Extraordinary Loss)
Feb 14, 2019 14:00 HKT/SGT
Showa Denko Announces 2018 Consolidated Financial Results
Jan 21, 2019 13:00 HKT/SGT
SDK's 3.5-inch Media Now Used in World's-Largest-Capacity 16TB HDD
Jan 15, 2019 13:30 HKT/SGT
SDK Group Develops Ultralight Laminate-type Radiator for EV Battery Modules
Jan 4, 2019 10:30 HKT/SGT
New Year Message from Kohei Morikawa, Showa Denko President and CEO
Dec 19, 2018 14:00 HKT/SGT
Showa Denko Announces Notice Regarding the Status of Share Repurchase and Its Completion
Dec 11, 2018 13:00 HKT/SGT
Showa Denko Maps Out New Medium-term Business Plan "The TOP 2021"
Dec 11, 2018 13:00 HKT/SGT
Showa Denko Forecasts Payment of Term-end Dividend
More news >>