Contributes to Avoided CO2 (GHG) Emissions of 917 Tons per Year



TOKYO, July 2, 2018 - (JCN Newswire) -

Sharp Energy Solutions Corporation(1) (SESJ) proudly announces the completion of a mega solar power plant inside Jakabaring Sports City, a sports complex in Palembang, South Sumatra, Republic of Indonesia. A collaboration with local energy solutions company Perusahaan Daerah Pertambangan Dan Energi(2) (PDPDE), the solar power plant started operations on April 10, 2018 and was officially inaugurated on June 30, 2018. The completion ceremony was attended by South Sumatra Governor Alex Noerdin, officials from Indonesia's Ministry of Energy and Mineral Resources, officials from the Embassy of Japan in Indonesia, and other relevant persons.

The power plant was constructed after qualifying for the Joint Credit Mechanism (JCM) Subsidy Program(3), run by the Japanese Ministry of the Environment (MOE). This 1.6 MW-dc solar power plant generates approximately 1,922 MWh/year, thus allowing avoided greenhouse gas (GHG) emissions of approximately 917 t-CO2 annually.

SESJ is committed to proposing energy solutions that meet the specific needs of Asia and other regions and contributing to the further deployment of renewable energy.

(1) SESJ is a wholly owned subsidiary of Sharp Corporation, specializing in energy solutions such as the sales of PV systems and the installation of electrical equipment.
Headquarters: Yao City, Osaka Prefecture President: Hiroshi Sasaoka
(2) PDPDE operates in fields such as mining, electrical energy development, and energy-related consulting.
Headquarters: Palembang, South Sumatra, Republic of Indonesia Representative: Arief Kadarsyah
(3) A financing program for JCM model projects. The program facilitates diffusion of leading low-carbon technologies for projects in developing countries to reduce CO2 emissions in such countries; appropriately measures, reports, and evaluates avoided GHG emissions in such projects; and, under the premise of counting the calculated avoided emissions amount as Japan's contribution to global GHG emission reduction through the JCM Subsidy Program, provides subsidies covering up to half of the initial investment amount for the equipment incorporating such leading low-carbon technologies.

http://www.acnnewswire.com/topimg/Low_SharpSolarPlantCeremony2718.jpg
At the completion ceremony on June 30, 2018
Tatsuya Sato, Executive Officer and Project General Manager, SESJ (2nd from left); Arief Kadarsyah, PDPDE President (3rd from left); South Sumatra Governor Alex Noerdin (4th from left)


About Sharp Corporation

Sharp Corporation (TSE: 6753) is a worldwide developer of innovative products and core technologies that play a key role in shaping the future of electronics. As a leader in liquid crystal displays (LCDs) and digital technologies, Sharp offers one of the broadest and most advanced lines of consumer electronics, information products and electronic components, while also creating new network businesses. For more information, please visit www.sharp.co.jp

Contact:

Miyuki Nakayama
Tokyo Public Relations and Media Liaison Office
Sharp Corporation
Tel: +81-3-5446-8205
Fax: +81-3-5446-8206

July 2, 2018 13:18 HKT/SGT
Source: Sharp Corporation
Sharp Corporation (TSE: 6753)
Topic: Press release summary
Sectors: Alt. Energy
http://www.acnnewswire.com
From the Asia Corporate News Network
Copyright © 2019 ACN Newswire. All rights reserved. A division of Asia Corporate News Network.
Multimedia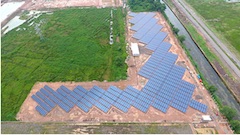 View Image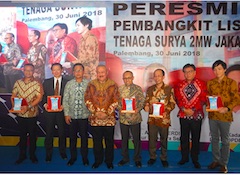 At the completion ceremony on June 30, 2018 Tatsuya Sato, Executive Officer and Project General Manager, SESJ (2nd from left); Arief Kadarsyah, PDPDE President (3rd from left); South Sumatra Governor Alex Noerdin (4th from left)
View Image
Sharp Corporation
June 13, 2019 11:10 HKT/SGT
Sharp Builds Mega Solar Plant near New Ulaanbaatar International Airport, Mongolia
June 5, 2019 10:16 HKT/SGT
Sharp Builds Mega Solar Power Plant in Quang Ngai Province, Vietnam
May 9, 2019 08:05 HKT/SGT
Sharp to Re-enter Television Business in the U.S.A. Market
Mar 27, 2019 15:42 HKT/SGT
Sharp to Exhibit at NAB Show 2019
Dec 18, 2018 17:37 HKT/SGT
Sharp to Take Part in CES 2019, First Time in 4 Years
Oct 10, 2018 12:19 HKT/SGT
Sharp: Vietnam's First Mega Solar Power Plant Starts Operation
Sept 21, 2018 15:07 HKT/SGT
Sharp Receives Order to Construct Mega Solar Power Plants in Binh Thuan and Long An Provinces in Vietnam
Sept 14, 2018 12:50 HKT/SGT
Sharp Builds Mega Solar Plant in Zamyn Uud, Mongolia
Aug 29, 2018 13:11 HKT/SGT
Sharp's AQUOS 8K LCD Monitor (LV-70X500E) for Europe Wins EISA Award 2018-2019
Feb 27, 2018 09:15 HKT/SGT
Sharp to Construct Mega Solar Power Plant in Vietnam
More news >>