| | |
| --- | --- |
| Tuesday, 16 October 2018, 16:00 HKT/SGT | |


Source: WARC
WARC releases Media Allocation Benchmarks report



LONDON, Oct 16, 2018 - (ACN Newswire) -

WARC, the global authority on advertising and media effectiveness, has today released the latest edition of its Media Allocation Benchmark report, identifying the typical budget split of highly successful campaigns.

Using its database of effective advertising campaigns, WARC has analysed close to 840 case studies between 2009 and 2017 that contain budget and media allocation information for TV, digital, print, out of home/experiential and other media.

Some key findings included in the report are:

- Successful brands have spent an average of 69% of their budgets on television and digital channels combined over the 2013 - 2017 period.

- The biggest determinant of media allocation is the size of the budget. Successful, prize-winning low-budget campaigns are highly digital-focused. At high budget levels, TV takes up more than 60% of a prize-winning brand's advertising investment.

- Media allocation varies by sector. Categories with low budgets, such as government and not-for-profit, are highly digital-led, as are transport and tourism; a category where consumers increasingly purchase online.

- The food category has the most concentrated media investment profile. Prize-winning food campaigns allocated 81% of their budgets to TV and digital combined.

Commenting on the findings in the report, Amy Rodgers, Research Editor, WARC, says: "Gaining the right balance of TV, which delivers reach, and digital, which supplements reach and aids activation, is a critical component of media allocation. The findings suggest that, when extra budget is available, it is often invested in TV."

A sample of WARC's Media Allocation Benchmarks report is available to download on https://content.warc.com/read-media-allocation-benchmarks-report-2018-sample. The report in full is available to WARC subscribers on https://www.warc.com/content/article/Media_allocation_report/110231.



About WARC

- your global authority on advertising and media effectiveness

WARC provides the latest evidence, expertise and guidance to make marketers more effective. WARC's mission is to save the world from ineffective marketing.

WARC's clients include the world's largest brands, advertising and media agencies, media owners, research companies and universities. They rely on WARC for rigorous, unbiased information and advice on almost any advertising and marketing issue, which WARC delivers via best practice guides, case studies, research papers, special reports and advertising trend data, as well as via webinars, awards, events and advisory services.

WARC collaborates with more than 50 respected industry organisations globally including: The Advertising Research Foundation, Cannes Lions, Effie Worldwide, Association of National Advertisers, ESOMAR, 4A's, IPA and DMA.

WARC was founded in 1985, and has offices in the UK, US and Singapore. In July 2018, WARC became part of Ascential plc, the global specialist information company.

Contact:
Amanda Benfell
PR Manager
+44 20 7467 8125


[email protected]



Oct 16, 2018 16:00 HKT/SGT
Source: WARC
Topic: Press release summary
Sectors: Media, Advertising
http://www.acnnewswire.com
From the Asia Corporate News Network
Copyright © 2019 ACN Newswire. All rights reserved. A division of Asia Corporate News Network.
Multimedia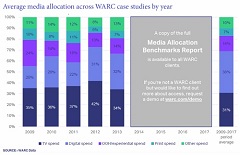 Average media allocation across WARC case studies by year chart
View Image
WARC
May 23, 2019 22:00 HKT/SGT
WARC Media Awards 2019 open for entries
May 8, 2019 17:00 HKT/SGT
The world's best campaigns and companies by sector -- WARC Rankings 2019
May 1, 2019 17:15 HKT/SGT
The WARC Awards 2019 - shortlists announced
May 1, 2019 17:00 HKT/SGT
WARC Effective 100 - Lessons from the global effectiveness rankings
Apr 30, 2019 17:30 HKT/SGT
2018 UK advertising spend hits £23.6bn following nine years of growth
Apr 25, 2019 22:00 HKT/SGT
Podcast ad market could reach $1.6bn by 2022 as Spotify moves to take lion's share
Apr 23, 2019 21:30 HKT/SGT
North America's best campaigns and companies across creativity, effectiveness and media excellence - WARC Rankings 2019
Apr 23, 2019 11:45 HKT/SGT
Asia's best campaigns and companies across creativity, effectiveness and media excellence - WARC Rankings 2019
Apr 6, 2019 11:00 HKT/SGT
The Good Report celebrating the best campaigns for social responsibility 2018
Apr 4, 2019 12:00 HKT/SGT
WARC Prize for Asian Strategy 2019 now launched. First judges named
More news >>