| | |
| --- | --- |
| Tuesday, 23 October 2018, 19:00 HKT/SGT | |


Source: HKTDC
Focus on New Technologies, Designs and Market Trends



HONG KONG, Oct 23, 2018 - (ACN Newswire) -

The 26th edition of the Hong Kong Optical Fair, organised by the Hong Kong Trade Development Council (HKTDC) and co-organised by the Hong Kong Optical Manufacturers Association (HKOMA), will be held at the Hong Kong Convention and Exhibition Centre (HKCEC) from 7-9 Nov. This year, the fair will welcome a record 810 exhibitors from 21 countries and regions to showcase the latest eyewear designs and related products. Pavilions from the Chinese mainland, France, Italy, Japan, Korea and Taiwan, along with HKOMA and Visionaries of Style, will provide a comprehensive marketing and trading platform for the industry.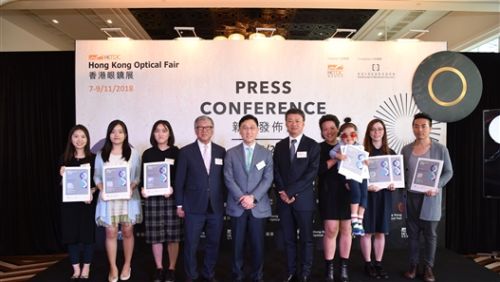 HKTDC Deputy Executive Director Benjamin Chau (5th from L) is joined by Hong Kong Optical Manufacturers Association (HKOMA) Vice Presidents Tony Chow (4th from L) and Sun Lam (6th from L) at a press conference today to introduce the 26th Hong Kong Optical Fair and present awards for the 20th Hong Kong Eyewear Design Competition.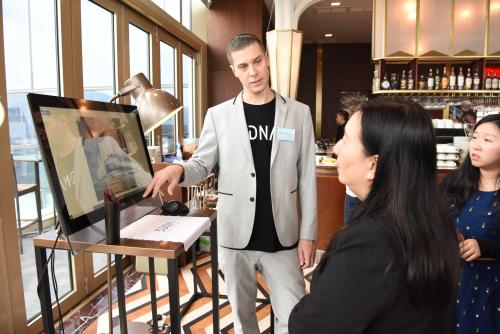 At the IT Solutions and Shop Fittings zone, debuting this year, local company 3DNA Eyewear will feature its self-developed interactive eyewear customisation platform.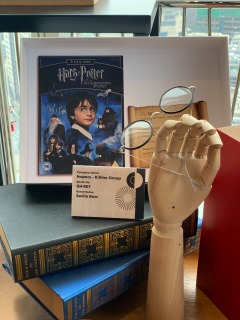 The fair this year will gather many designs related to popular films, including a set of black round-frame glasses inspired by the protagonist in Harry Potter from British company Savile Row and local brand BIG HORN's Justice League crossover sunglasses collection.



"Hong Kong has long been a marketing and sourcing hub for the optical industry. As consumers become more concerned about eye health, and as the population ages, the industry sees plenty of growth potential for the optical market," HKTDC Deputy Executive Director Benjamin Chau said at a press conference today. "With online shopping becoming more prevalent, companies can develop more distribution channels to expand the market. As tech-driven solutions become an important market trend, the fair is introducing the new IT Solutions and Shop Fittings zone to help the industry understand the latest technological applications and device designs and assist them in boosting production and improving business efficiency."

Spotlighting Innovative Technologies and Famous Brands

At the IT Solutions and Shop Fittings zone, which makes its debut this year, local company 3DNA Eyewear will showcase its self-developed interactive eyewear customisation platform that can scan and measure the customer's facial features through computer software and then produce a customised frame using a 3D printer. Another Hong Kong exhibitor, Mastermind Manufacture Limited, will be demonstrating how their shop design and installation solution can help retailers highlight their brand image and develop marketing strategies to make promotions more effective.

Elsewhere at the fair, various thematic zones will showcase a wide variety of eyewear products to facilitate buyers' sourcing. The Brand Name Gallery will house more than 220 well-known brands from around the world. The eyewear brand ITUM, created by young Hong Kong entrepreneurs, designed the MONO collection of 3D-printed customised nylon eyewear that fits the user's face perfectly, making it much more comfortable to wear. Consumers can even change their lenses to match their clothing.

Another brand, Charmant from Japan, has been established for more than 60 years. Its patented EX titanium, which is extremely flexible, is used to make a shape-memory arm that fits the face and is resistant to deformation. The brand also employs its unique colouring technology to add colour or crystals on the tiny hinges, adding style and durability to their eyewear collection. French brand Lafont, meanwhile, combines jewellery and eyewear design and is known for its stylish metal frames. The brand's latest sunglasses collection features painted enamel and crystals, creating a delicate yet elegant look.

Other brands exhibiting at the fair include 999.9, Bestwork, BLANC & ECLARE, bTd, CLASSICO, Etnia Barcelona, HACHill, ic! berlin, Laura Ashley, Markus-t, MATSUDA, MINIMA, Oh My Glasses TOKYO, STEPPER, Superdry, T HENRI, VIA EYEWEAR and William Morris Black Label. Eyewear parades will be organised throughout the fair period, with professional models presenting the latest collections from trendy eyewear brands.

Movie Crossovers Highlight Design Trends

This year's fair features various designs related to popular movies, including a set of black round-frame glasses inspired by the Harry Potter films from British eyewear producer Savile Row, established in 1932. The glasses are made in the United Kingdom using traditional methods where a single professional craftsman completes more than 100 processes to make the glasses, creating a piece of art through and through. Local brand BIG HORN is launching a Justice League sunglasses collection featuring six fashionable designs inspired by the film's characters and equipped with flash mirror lenses. Inspired by the classic film The Fifth Element, Italian brand HEX has created a set of hexagonal eyeglasses that combines the avant-garde with the finest Italian craftsmanship, showcasing the brand's creativity and technology.

Contact Lens Market Shows Huge Potential

One of the highlights of the fair will be the Contact Lenses & Accessories zone, which returns this year in response to the growing contact lens market. According to Zion Market Research, last year's global sales of contact lenses reached HK$85 billion, with the market expected to grow beyond HK$130 billion by 2024. The zone is located at the Level 2 Mezzanine.

Other thematic zones at this year's fair include Sporting & Professional Eyewear, Kids Eyewear & Reading Glasses, Frames, Lenses & Parts, Eyewear Accessories, Diagnostic Instruments and Optometric Instruments & Machinery. The HKTDC is continuing its push to make the fair more environmentally friendly by providing electronic badges to visitors, helping to enhance the overall exhibition experience.

Eyewear Design Competition Focuses on Local Talent

To foster local creativity and innovation, the HKTDC has joined hands with the HKOMA to organise the 20th Hong Kong Eyewear Design Competition, attracting close to 100 quality entries with eight awards being presented at the Optical Fair press conference. The theme for this year's competition was "Smart Living", with entries from the Open Group and the Student Group competing for awards in various categories including "Originality & Creativity", "Aesthetics", "Practicality & Functionality" and "Marketability & Product Feasibility".

The Champion in the Open Group is BoBo Lai Pui-yan from Okia Optical Co., Ltd. for her work "FRAMILY", which also receives the Made-to-Sell Award. "Vary", by the Hong Kong Design Institute's Wong Ka-yan, is named Champion in the Student Group. The Creativity Award goes to Wong Hoi-shan from Arts Optical Company Limited for her work "The HEALING". All award-winning and finalist entries are on display at Hall 1D during the fair period to showcase Hong Kong's creative force to international buyers, helping Hong Kong-made eyewear to expand into the international market. Buyers can vote online or at the fairground for the Latest Look Award. For more details of the winning entries of the 20th Hong Kong Eyewear Design Competition, please visit: https://bit.ly/2ygSp8o

Array of Events to Share Industry Insights

The 16th Hong Kong Optometric Conference will be held on 8 Nov with the theme "The Contemporary Role of Optometrists in Primary Care". Optometry experts from the United States, Canada, Hong Kong and the Chinese mainland, including Professor Zhuo Hua Pan from Wayne State University, Professor Robert Hess from McGill University and Professor Benny Zee from The Chinese University of Hong Kong, will examine some of the biggest optometry issues including gene therapy for vision restoration, treatment of amblyopia in adulthood and artificial intelligence (AI) computing for health-risk prediction.

A number of other seminars and events will be organised during the fair period to facilitate the exchange of market information within the industry. Among the seminar speakers is a representative from well-known German research institute GfK, who will discuss contact lens development in Asia. Other events will include Product Demo & Launch Pad, Trend Forum, and the Testing and Certification Services of Optical and Related Products seminar.

Fair Website
Hong Kong Optical Fair: http://hkopticalfair.hktdc.com/
Photo download: https://bit.ly/2R7Y1Zp


About HKTDC

The Hong Kong Trade Development Council (HKTDC) is a statutory body established in 1966 to promote, assist and develop Hong Kong's trade. With 50 offices globally, including 13 in Mainland China, the HKTDC promotes Hong Kong as a two-way global investment and business hub. The HKTDC organises international exhibitions, conferences and business missions to create business opportunities for companies, particularly small and medium-sized enterprises (SMEs), in the mainland and international markets. The HKTDC also provides up-to-date market insights and product information via trade publications, research reports and digital news channels. For more information, please visit: www.hktdc.com/aboutus. Follow us on Twitter @hktdc and LinkedIn

Contact:
Angel Leong, Tel: +852 2584 4298, Email: 

[email protected]


Joshua Cheng, Tel: +852 2584 4395, Email: 

[email protected]



Oct 23, 2018 19:00 HKT/SGT
Source: HKTDC
Topic: Trade Show or Conference
Sectors: Trade Shows, Transportation/Logistics, Retail/eCommerce, Marine/Offshore
http://www.acnnewswire.com
From the Asia Corporate News Network
Copyright © 2020 ACN Newswire. All rights reserved. A division of Asia Corporate News Network.
HKTDC
Sept 17, 2020 18:00 HKT/SGT
CENTRESTAGE Virtual Runway Shows Begin Today
Sept 14, 2020 18:00 HKT/SGT
HKTDC Export Index 3Q20: Exporter confidence rises for second consecutive quarter
Sept 3, 2020 18:00 HKT/SGT
Hong Kong Book Fair rescheduled for 16-22 December
Aug 31, 2020 19:00 HKT/SGT
FILMART Online attracts 7,000 international buyers
Aug 26, 2020 20:00 HKT/SGT
FILMART Online kicks off today
Aug 24, 2020 18:00 HKT/SGT
Exclusive JOYCE X ENZO Chan crossover collection
Aug 12, 2020 23:00 HKT/SGT
HKTDC Summer Sourcing Weeks | Go ONLINE builds a business success
Aug 10, 2020 11:00 HKT/SGT
Hong Kong Jewellery Design Competition winners revealed
July 31, 2020 12:00 HKT/SGT
5G powers up IoT
July 30, 2020 16:00 HKT/SGT
HKTDC Entrepreneur Day: Start-ups get insights into overcoming challenges
More news >>