SINGAPORE, Sept 24, 2010 - (ACN Newswire) -

Bernie Ecclestone believes Asia is central to the motorsports industry in general and Formula 1(TM) in particular.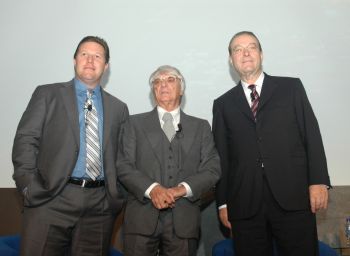 Ecclestone Bullish on Formula 1 in Asia; Landmark Conference in Singapore Attracts 180 Delegates from Across Region



"People used to say, 'Go west, young man,' but now the world is moving east," the F1 supremo told an audience of senior executives and business leaders at "THE BUSINESS OF MOTORSPORTS IN ASIA" conference in Singapore on Friday (24 September).

"Formula 1 has gone worldwide and we have opened a lot of people's eyes to the sport, but it has taken us a long time to achieve that."
Ecclestone also highlighted recent global partnership agreements that F1 had signed with Korean electronics giant LG and Swiss bank UBS and said these had generated further confidence in the sport to the benefit of teams. "There are an awful lot of companies who want to get involved in Formula 1," he said.

UBS Group CEO Oswald Grubel told the audience he hoped the bank would move forward in conjunction with F1, especially in Asia, and that it was a partnership that made perfect sense.

"We hope we are growing in the Asian market as fast as Formula 1 is growing. Asia will be the world's biggest growth area for at least the next 10 years," he said.

THE BUSINESS OF MOTORSPORTS IN ASIA conference, attended by 180 delegates from across the region, was organised by Singapore Exchange (SGX) and Just Marketing International (JMI).

A stellar cast of speakers with first-hand knowledge of F1 gave the audience a unique insight into the fast-expanding motorsports industry and its implications for Asia.

The summit was timed to coincide with the 2010 FORMULA 1(TM) SINGTEL SINGAPORE GRAND PRIX.

Delegates were told that with more than a quarter of F1 World Championship races now taking place in Asia, the sport offered unprecedented business opportunities for the region's key companies.

In his keynote address, Mr S Iswaran, Singapore's Senior Minister of State for Trade & Industry and Education, said bringing F1 to the city-state had resulted in huge benefits.

"The impact of F1 is far reaching and can be felt beyond the tourism landscape," he said. "It has galvanized companies and community groups to ride on its momentum and organize events around the F1 race to involve the community and businesses at large."

"Motorsports events such as the F1 race offer unprecedented exposure for businesses and, in turn, generate opportunities for the region's key companies. Today's summit is a good opportunity for companies in the region to network and capitalize on spin-offs brought by the anchoring of the Formula 1 race in Singapore."

Magnus Bocker, Chief Executive Officer, Singapore Exchange, said the summit was an opportunity for SGX to help customers grow their businesses.

"The qualities and characteristics of F1 resonate well with Singapore Exchange and I am very encouraged that our customers have expressed strong interest and are telling us how this summit could potentially help them in expanding their global network through the association with established global brands," he said.

Joining SGX and JMI in support of THE BUSINESS OF MOTORSPORTS IN ASIA were the Economic Development Board (EBD) Singapore, Singapore Tourism Board (STB), Singapore Sports Council and media partners including The Business Times of Singapore and Channel NewsAsia.

Zak Brown, Founder and CEO of JMI, the world's largest marketing agency dedicated exclusively to motorsports, told the conference that Asian companies were becoming more aware of the opportunities on offer.

"There is a growing roll call of Asian corporations that have successfully parlayed motorsports sponsorships into brand-enhancing positions, including Aigo, AirAsia, LG, Kingfisher, Petronas and Singtel," he said. "In summary, Asia and motorsports are going fast - and growing fast."


About Just Marketing International (JMI)

Just Marketing International is the global leader in motorsports marketing. JMI leverages its insider knowledge, influence and relationships to deliver creative customized solutions to organizations that are looking for a differentiator through motorsports sponsorship to drive their business.

JMI is an independent, full-service agency representing corporations in all forms of motorsports worldwide. With more than 140 staff globally, JMI operates eight offices in five countries and manages more than $300 million in annual motorsports investments.

JMI's client list comprises leading corporations, some of which include Apex-Brasil, Crown Royal, DIRECTV, FXDD, Johnnie Walker, LG Electronics, UBS, Singapore Exchange, SUBWAY(R) Restaurants, UPS and Verizon Wireless. JMI's clients participate in all major motorsports series, including NASCAR, Formula One World Championship, IZOD IndyCar Series, GRAND-AM, NHRA, FIA GT1 World Championship, and the American Le Mans Series. For more information, please visit JMI at www.justmarketing.com.


About Singapore Exchange (SGX)

Singapore Exchange (SGX) is the Asian Gateway, connecting investors in search of Asian growth to corporate issuers in search of global capital. SGX represents the premier access point for managing Asian capital and investment exposure, and is Asia's most international exchange with about 40% of companies listed on SGX originating outside of Singapore. SGX offers its clients the world's biggest offshore market for Asian equity index futures, centred on Asia's three largest economies - China, India and Japan.

In addition to offering a fully integrated value chain from trading and clearing, to settlement and depository services, SGX is also Asia's pioneering central clearing house. Headquartered in Asia's most globalised city, and centred within the AAA strength and stability of Singapore's island nation, SGX is a leading Asian counterparty for the clearing of financial and commodity products. For more information, please visit www.sgx.com.

Contact:
Joan Lew
Assistant Vice President, Communications
Singapore Exchange
Direct: +65 6236 8658

Niall Donnelly
Two Up Front
Direct: +852 2854 2136


[email protected]



Tim Bampton
Vice President, Communications, JMI
Direct: +44 20 7590 5871


[email protected]



Sept 24, 2010 19:00 HKT/SGT
Source: Singapore Exchange (SGX)
Topic: Trade Show or Conference
Sectors: Daily Finance, Daily News
http://www.acnnewswire.com
From the Asia Corporate News Network
Copyright © 2020 ACN Newswire. All rights reserved. A division of Asia Corporate News Network.
Singapore Exchange (SGX)
Dec 12, 2019 18:00 HKT/SGT
Fortune Times Names Mr Vito Xu Rongcan, Chairman of SAMPL, Manager of SGX-Listed Sasseur REIT, as Asia's Top Entrepreneur for 2019
Oct 1, 2019 19:00 HKT/SGT
Sasseur REIT Wins Best Retail REIT, Best Investor Relations and Best CEO at Asia Pacific REITs Awards 2019
Apr 18, 2019 15:00 HKT/SGT
SGX Bull Charge kicks off 2019 fundraising with Sasseur Asset Management as Premium Partner
Nov 23, 2018 21:20 HKT/SGT
EMC Launches Electricity Procurement Portal for Singapore Businesses
Oct 25, 2016 16:30 HKT/SGT
Medical Services Group HC Surgical Specialists Launches Initial Public Offer at S$0.27 Per Share
Oct 5, 2016 18:30 HKT/SGT
Six SGX-Listed SMEs Present at 'Discovering Value in SGX Small Caps' Investment Seminar
May 28, 2015 18:00 HKT/SGT
More Search Firms Partnering Singapore's Diversity Action Committee in Pro-Diversity Effort
May 22, 2015 19:00 HKT/SGT
Singapore Exchange (SGX) and Zhengzhou Commodity Exchange (ZCE) Seal Collaboration with MOU
Apr 22, 2015 18:00 HKT/SGT
Singapore Exchange (SGX) sees another Quarter of Growth with Net Profit of $88 million
Apr 17, 2015 12:30 HKT/SGT
Bank of China, BOC International Holdings and SGX Expand Collaboration on Renminbi and Market Developments
More news >>