| | |
| --- | --- |
| Thursday, 8 November 2018, 08:43 HKT/SGT | |


Source: Eisai
Strengthens In-House Domestic Production System in China



TOKYO, Nov 8, 2018 - (JCN Newswire) -

Eisai Co., Ltd. announced today that its Chinese subsidiary, Eisai China Inc. (ECI) has commenced full-scale operation of its new Suzhou plant located within the Suzhou Industrial Park, and an opening ceremony was held accordingly.

http://www.acnnewswire.com/topimg/Low_EisaiNewSuzhou%20.jpg
(from left: Kazuyuki Katayama, Consulate-General of Japan in Shanghai; Wu Qingwen, Deputy Mayor, Suzhou Municipality, SIPAC Secretary General of the Party Committee; Haruo Naito, Eisai Co., Ltd. CEO; Wang Yue, Jiangsu Food and Drug Administration Head of Bureau)

Aiming to further expand its contribution to patients in China, Eisai has been working to establish the new Suzhou plant as the plant with the largest production capacity under the Eisai Group on a new industrial site more than five times larger than the former Suzhou plant (oral solid dose production facility scheduled for closure at the end of November 2018) at approximately 134,000m2 in size to further strengthen the stable supply chain as well as improve production efficiency. The new Suzhou plant's oral solid dose production facility has a production capacity (formulation of approximately 3 billion tablets / packaging for approximately 5 billion tablets per year) which is approximately double that of the former Suzhou plant, and handles the formulation and packaging of oral solid dose products such as Methycobal, Aricept and Pariet for the domestic Chinese market. In addition, ECI established a parenteral facility (production capacity: 60 million bottles per year) in advance in November 2014, where it manufactures the injection formulation of Methycobal.

Eisai's business operations in China are one of its core businesses which is third-largest in scale after Japan and the United States. With the full-scale commencement of operations at the new Suzhou plant, Eisai seeks to strengthen its in-house domestic production system in China and expand its stable supply chain of high quality pharmaceuticals, contributing to increasing the benefits to patients and their families in China.


About Eisai

Eisai Co., Ltd. is a leading global research and development-based pharmaceutical company headquartered in Japan. We define our corporate mission as "giving first thought to patients and their families and to increasing the benefits health care provides," which we call our human health care (hhc) philosophy. With approximately 10,000 employees working across our global network of R&D facilities, manufacturing sites and marketing subsidiaries, we strive to realize our hhc philosophy by delivering innovative products in various therapeutic areas with high unmet medical needs, including Neurology and Oncology.

Furthermore, we invest and participate in several partnership-based initiatives to improve access to medicines in developing and emerging countries.

For more information about Eisai Co., Ltd., please visit www.eisai.com

Contact:
Public Relations Department,
Eisai Co., Ltd.
+81-3-3817-5120

Nov 8, 2018 08:43 HKT/SGT
Source: Eisai
Eisai (TSE: 4523)
Topic: Press release summary
Sectors: BioTech
http://www.acnnewswire.com
From the Asia Corporate News Network
Copyright © 2019 ACN Newswire. All rights reserved. A division of Asia Corporate News Network.
Multimedia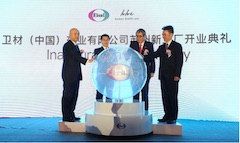 (from left: Kazuyuki Katayama, Consulate-General of Japan in Shanghai; Wu Qingwen, Deputy Mayor, Suzhou Municipality, SIPAC Secretary General of the Party Committee; Haruo Naito, Eisai Co., Ltd. CEO; Wang Yue, Jiangsu Food and Drug Administration Head of Bureau)
View Image
Eisai
July 23, 2019 11:37 HKT/SGT
Eisai and Merck & Co., Inc., Kenilworth, N.J., U.S.A. Receive Breakthrough Therapy Designation from FDA
July 19, 2019 12:00 HKT/SGT
Eisai Presented Latest Trends of Treatment for Alzheimer's at AAIC 2019
July 19, 2019 08:15 HKT/SGT
Eisai Presented Data Showing Quantification of Tau Microtubule Binding Region at AAIC 2019
July 18, 2019 13:26 HKT/SGT
Eisai Presents Research Evaluating Correlation of Highly-Precisely Measured Amyloid Beta in Plasma and Cerebrospinal Fluid with Newly Developed Automated Protein Assay System at AAIC 2019
July 18, 2019 12:01 HKT/SGT
Eisai Presents Nonclinical Research Results of Elenbecestat at AAIC 2019
July 17, 2019 08:20 HKT/SGT
Eisai's Anticancer Agent Halaven Approved for Treatment of Locally Advanced or Metastatic Breast Cancer in China
July 11, 2019 12:59 HKT/SGT
Eisai Listed for 18th Consecutive Year in FTSE4Good Index Series
July 11, 2019 09:04 HKT/SGT
Latest Data on Eisai's Alzheimer's Disease/ Dementia Pipeline to be Presented at AAIC 2019
July 10, 2019 12:27 HKT/SGT
Eisai Center for Genetics Guided Dementia Discovery Commences Full-Scale Operation Toward Innovative Dementia Treatments With New Drug Discovery Approach in Cambridge, Massachusetts
July 8, 2019 09:31 HKT/SGT
Eisai Enters Into Collaboration Research Agreement With University of Dundee on Targeted Protein Degradation Toward Cancer Drug Discovery
More news >>