TOKYO, Dec 7, 2018 - (JCN Newswire) -

Showa Denko (SDK; TSE:4004), Showa Aluminum Can Corporation (SAC), a consolidated subsidiary of SDK, and Carabao Group PCL (CBG), a leading beverage maker headquartered in Bangkok, jointly held a ceremony on December 6 for the completion of a new aluminum can factory owned and operated by Asia Can Manufacturing Co., Ltd. (ACM). ACM is a can manufacturing company established in June 2017 as a joint venture among SDK, SAC and CBG, and had been conducting the project to construct the new factory since then.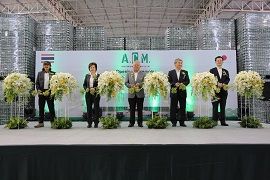 Completion ceremony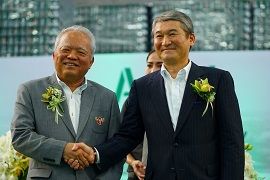 (left to right) Mr. Sathien Setthasit, Chairman of CBG and Mr. Hideo Ichikawa, Chairman of SDK



The Showa Denko Group positions its aluminum can business as "Growth-accelerating" business in its ongoing medium-term business plan "Project 2020+," and has been promoting business expansion strategy targeted at Southeast Asia. As a result of the completion of the new aluminum can factory of ACM, Showa Denko Group's capacity to manufacture aluminum cans in Southeast Asia has been expanded to 3 billion cans a year, including that of Hanacans Joint Stock Company of Vietnam.

After the start-up of operations of the new factory, ACM will mainly manufacture aluminum cans for CBG's beverages for export from Thailand. CBG aims to expand its overseas sales, centering on Southeast Asian countries, China and the United Kingdom. ACM will support CBG's overseas operations through stable supply of high-quality aluminum cans manufactured by leading-edge technologies and quality management system built up by SAC over many years.

Outline of the joint corporation
Company name: Asia Can Manufacturing Co., Ltd.
Scope of business: Production and sale of aluminum cans
Construction site: Bang Pakong, Chachoengsao Province, the Kingdom of Thailand
Establishment: June 15, 2017
Capital: 700 million bahts
Shareholders: CBG (74%); SAC (24%); SDK (2%)


About Showa Denko K.K.

Showa Denko K.K. (SDK; TSE:4004, ADR:SHWDY) is a major manufacturer of chemical products serving from heavy industry to computers and electronics. The Petrochemicals Sector provides cracker products such as ethylene and propylene, the Chemicals Sector provides industrial, high-performance and high-purity gases and chemicals for semicon and other industries, the Inorganics Sector provides ceramic products, such as alumina, abrasives, refractory/graphite electrodes and fine carbon products. The Aluminum Sector provides aluminum materials and high-value-added fabricated aluminum, the Electronics Sector provides HD media, compound semiconductors such as ultra high bright LEDs, and rare earth magnetic alloys, and the Advanced Battery Materials Department (ABM) provides lithium-ion battery components. For more information, please visit www.sdk.co.jp/english/.

Contact:
Showa Denko K.K.  Public Relations Office, Tel: +81-3-5470-3235.

Dec 7, 2018 10:30 HKT/SGT
Source: Showa Denko K.K.
Showa Denko K.K. (TSE: 4004)
Topic: Press release summary
Sectors: Metals/Mining, Chemicals, Print/Package
http://www.acnnewswire.com
From the Asia Corporate News Network
Copyright © 2020 ACN Newswire. All rights reserved. A division of Asia Corporate News Network.
Showa Denko K.K.
Aug 12, 2020 15:00 HKT/SGT
Showa Denko Announces 2020 2Q Consolidated Financial Results
Aug 12, 2020 15:00 HKT/SGT
SDK Revises Forecast of Consolidated Performance for Full-year 2020
Aug 6, 2020 15:00 HKT/SGT
SDK to Record Operating/Non-operating Expenses for Acquisition of Hitachi Chemical's Shares, and Extraordinary Loss
July 30, 2020 14:00 HKT/SGT
Showa Aluminum Can Has a Ceremony to Celebrate the Completion of the Third Production Base in Vietnam
July 14, 2020 16:00 HKT/SGT
SDK Develops Wet-Resistant Heat-Conductive Aluminum Nitride Filler
June 26, 2020 13:00 HKT/SGT
Showa Denko Group Recycles 4.43 Million Aluminum Cans in FY2019
June 23, 2020 15:00 HKT/SGT
SDK Subsidiary, Hitachi Chemical Changes Name
June 15, 2020 11:30 HKT/SGT
SDK Group Completes Expansion of Lines to Produce Vinyl Ester Resin and Synthetic Resin Emulsion in Shanghai
May 15, 2020 15:30 HKT/SGT
Showa Denko Announces 2020 First Quarter Financial Results
May 15, 2020 15:30 HKT/SGT
SDK Revises 2020 Consolidated Performance Forecast and Dividend Payment Forecast
More news >>