| | |
| --- | --- |
| Friday, 7 December 2018, 17:00 HKT/SGT | |


Source: HKTDC
Smart Robots and Award-winning Gadgets Inspire and Entertain



HONG KONG, Dec 7, 2018 - (ACN Newswire) -

Organised by the Hong Kong Trade Development Council (HKTDC), the second edition of DesignInspire is held from 6-8 Dec, finishing tomorrow. Under the theme "Co-create a Happy city," the show aims to let members of the public experience how innovative designs can improve the quality of city life.

Dancing Robots and a Portrait-drawing Arm

Robotics is the talk of the town as smart cities and smart living begin to change the world. In the "Urbanovation" pavilion, visitors get ready to be amused by the state-of-the-art robots on display. Watch Aelos, which debuted during the 2018 Winter Olympics, performs dances and somersaults - 20 different moves in total! On the other "hand," visitors can have their portrait drawn by the multifunctional robotic arm created by the University of Hong Kong's Engineering Department.

Education has a vital role to play in building sustainable innovation. STEAM education, which integrates the studies of science, technology, engineering, arts and mathematics, is having a big impact on young lives. At DesignInspire, children can have fun creating their own robots through the Robobloq platform, with its intelligent wireless electronic modules and easy-to-use drag-and-drop graphical programming software. In addition, a series of workshops covering STEAM subjects is running throughout the three-day event, including the "Mobile Virtual Reality Smart City SEAM Workshop" and "Building a Happy City" workshop.

Innovative Hong Kong Design Goes Green

Being green is as important as being smart in society's vision for the future. Artech Graphics, which specialises in event and exhibition decoration, is showcasing an installation that exemplifies how eco design can also be good design, using the theme of the struggle that polar bears face under global warming. "Our exhibit is built using eco-friendly materials that are both light and weight-bearing, and are also easier reuse or recycle than wood and plastic. They not only are gentle to the environment but also cost a third less than traditional materials, so more and more customers are considering choosing our materials and services," said Artech Managing Director Edward Yeung.

Wonderful designs are everywhere at DesignInspire. The Hong Kong Smart Design Awards showcase several prize-winning products that are brilliantly designed, practical, and also fun. They include a Rubik's Cube with a Cantonese idiom theme, an automatic pet feeder and a plant waterer. Leo Yiu, who earned a merit in the awards with his Stackable Vase, said: "I used to focus on interior and homeware product design, but from this year I'm creating more brand products. I'm very honoured to have won several awards, which has helped to improve my sales and led to more and more customers seeking out my design services. During the exhibition, I was approached a number of times by packaging and product manufacturers from the mainland [Mainland China]."

Grab a Gadget from the Pop-up Shop

The pop-up shop at DesignInspire is brimming with cool gadgets to take home, including the Plump Planet Friends design stationery, toys and tote bags; door stoppers and bookends featuring cute fabric animals; cutlery and accessories with antibacterial coatings, and many more. Furthermore, visitors can take part in the many free-to-join activities scattered around the fairground such as origami, colouring games and 3D paper-model making. There's also a gigantic capsule toy machine that is fun for children and not-so-grown-up adults alike.

DesignInspire is the place to be this weekend for the whole family to have fun!

Photo Download: https://bit.ly/2E4RuLG


About HKTDC

Established in 1966, the Hong Kong Trade Development Council (HKTDC) is a statutory body dedicated to creating opportunities for Hong Kong's businesses. With 50 offices globally, including 13 on the Chinese mainland, the HKTDC promotes Hong Kong as a platform for doing business with China, Asia and the world. With more than 50 years of experience, the HKTDC organises international exhibitions, conferences and business missions to provide companies, particularly SMEs, with business opportunities on the mainland and in international markets, while providing business insights and information via trade publications, research reports and digital channels including the media room. For more information, please visit: www.hktdc.com/aboutus. Follow us on Google+, [email protected], LinkedIn.

Contact:
Banbi Chen, Tel: +852 2584 4525, Email: 

[email protected]



Dec 7, 2018 17:00 HKT/SGT
Source: HKTDC
Topic: Trade Show or Conference
Sectors: Design/Art
http://www.acnnewswire.com
From the Asia Corporate News Network
Copyright © 2019 ACN Newswire. All rights reserved. A division of Asia Corporate News Network.
Multimedia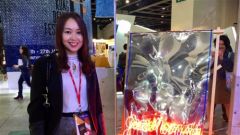 Jenny Cheung, a lecturer at the Technological and Higher Education Institute of Hong Kong, says DesignInspire is a truly international event, with pavilions showcasing designs from Japan, Korea, Melbourne and various Mainland China cities. There are plenty of design exhibits that help to inspire innovation, she says.
View Image
HKTDC
May 21, 2019 15:00 HKT/SGT
Three HKTDC Initiatives Boost Local Start-up Ecosystem
May 21, 2019 15:00 HKT/SGT
Three HKTDC initiatives boost local start-up ecosystem
May 17, 2019 17:00 HKT/SGT
Local biotech start-ups begin to target mass market
May 16, 2019 20:00 HKT/SGT
HKTDC Medical and Healthcare Fair finishes three-day run
May 16, 2019 19:00 HKT/SGT
11th HKTDC Entrepreneur Day opens today
May 15, 2019 19:00 HKT/SGT
11th HKTDC Entrepreneur Day opens tomorrow
May 14, 2019 18:30 HKT/SGT
10th HKTDC Medical and Healthcare Fair opens today
May 14, 2019 11:00 HKT/SGT
Top Hong Kong films to be screened in Cannes
May 9, 2019 18:00 HKT/SGT
HKTDC Hong Kong International Medical and Healthcare Fair opens next Tuesday
May 8, 2019 17:00 HKT/SGT
11th HKTDC Entrepreneur Day opens next Thursday
More news >>