| | |
| --- | --- |
| Thursday, 4 April 2019, 11:00 HKT/SGT | |


Source: HKTDC
Belt and Road and Greater Bay Area opportunities highlighted



HONG KONG, Apr 4, 2019 - (ACN Newswire) -

The Hong Kong Trade Development Council (HKTDC) organised a networking luncheon yesterday (3 April) in honour of Panama President Juan Carlos Varela Rodriguez, who was visiting with a high-level official delegation to promote trade and investment with Hong Kong. Hosted by HKTDC Acting Executive Director Raymond Yip, the luncheon was also attended by Panama officials and Hong Kong business leaders. At the event, both Mr Varela Rodriguez and Mr Yip highlighted the potential for further business collaboration between Panama and Hong Kong, including in areas related to the Belt and Road Initiative and Guangdong-Hong Kong-Macao Greater Bay Area Development.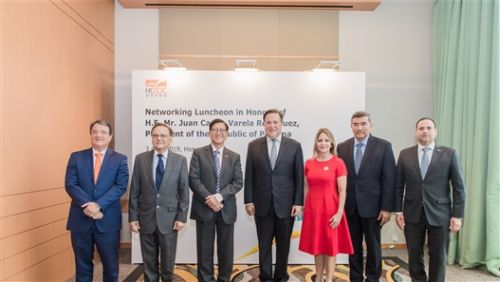 L-R: Gonzalez, Minister of Commerce and Industry of Panama; Roberto Roy, Minister for Canal Affairs of Panama; Raymond Yip, Acting Executive Director of the HKTDC; Juan Carlos Varela Rodriguez, President of Panama; Maria Eugenia Amaya, Consul-General of Panama in Hong Kong; Oscar Ramirez, General Manager of Tocumen S.A.; and Francisco Escobar, Ambassador of Panama to China



"Hong Kong is playing a pivotal role in these initiatives, serving as a centre for financing, investment, logistics, trading, infrastructure and real estate services, and a whole range of professional services including dispute resolution, risk management and more," said Mr Yip. "This makes the city an ideal partner for Panamanian enterprises looking to seize opportunities in this region." He added the HKTDC could connect Panamanian and Hong Kong companies for joint business success. "We at the HKTDC stand ready to lend our expertise and support."

His remarks were echoed by the Panamanian president. "Our greatest interest with you is to continue to grow a strong relationship that allows our commercial, educational, cultural and tourist exchanges to increase," said Mr Varela Rodriguez. "Let us continue working hand in hand for global prosperity and for the mutual growth of our economies."

Full speech by Mr Varela Rodriguez:http://mediaroom.hktdc.com/en/pressrelease/detail/19957/
Full speech by Mr Yip: http://mediaroom.hktdc.com/en/pressrelease/detail/19956/

Photos download: https://bit.ly/2TQIDSl


About HKTDC

The Hong Kong Trade Development Council (HKTDC) is a statutory body established in 1966 to promote, assist and develop Hong Kong's trade. With 50 offices globally, including 13 in Mainland China, the HKTDC promotes Hong Kong as a two-way global investment and business hub. The HKTDC organises international exhibitions, conferences and business missions to create business opportunities for companies, particularly small and medium-sized enterprises (SMEs), in the mainland and international markets. The HKTDC also provides up-to-date market insights and product information via trade publications, research reports and digital news channels. For more information, please visit: www.hktdc.com/aboutus. Follow us on Twitter @hktdc and LinkedIn.

Contact:
Carrie Lee, Tel: +852 2584 4238, Email: 

[email protected]



Apr 4, 2019 11:00 HKT/SGT
Source: HKTDC
Topic: Press release summary
Sectors: Daily Finance, Daily News, Local Business
http://www.acnnewswire.com
From the Asia Corporate News Network
Copyright © 2020 ACN Newswire. All rights reserved. A division of Asia Corporate News Network.
HKTDC
May 7, 2020 15:00 HKT/SGT
HKTDC to host Summer Virtual Expo
Apr 6, 2020 15:00 HKT/SGT
Start-up Express 2020: A Journey to Success for HK Start-ups
Mar 26, 2020 19:00 HKT/SGT
HKTDC to launch Spring Virtual Expo and Guided SME Support
Mar 17, 2020 18:00 HKT/SGT
HKTDC Export Index 1Q20: Exporter confidence hits record low amid COVID-19 outbreak
Feb 26, 2020 20:00 HKT/SGT
Hong Kong Trade Development Council welcomes new Budget
Feb 13, 2020 16:00 HKT/SGT
HKTDC helps SMEs amid unprecedented challenges
Feb 4, 2020 09:00 HKT/SGT
HK designers unveil collections at London Fashion Week
Jan 24, 2020 11:00 HKT/SGT
Fashion Hong Kong arrives at New York Fashion Week
Jan 21, 2020 19:00 HKT/SGT
HKTDC Education & Careers Expo opens early February
Jan 15, 2020 19:00 HKT/SGT
3,500+ finance, business leaders join Asian Financial Forum
More news >>