- ARC Line has been introduced to new automobile plant in Thailand -



TOKYO, Apr 21, 2016 - (JCN Newswire) -

Honda Motor Co., Ltd. has developed the world's first(1) mass-production automobile assembly line with a main line that incorporates a flowing cell production system. Honda has named this original assembly line the ARC(2) Line and introduced it to Honda's new Prachinburi Plant in Thailand that became operational in March 2016. The plant is part of Honda Automobile (Thailand) Co., Ltd. (HATC), Honda's automobile production and sales subsidiary in Thailand, and is located within the Rojana Industrial Park in Prachinburi Province.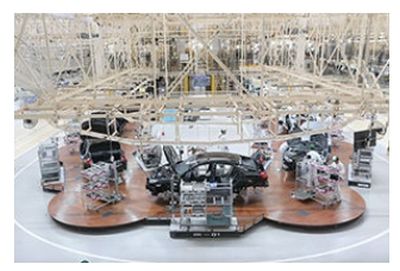 Honda Motor Co., Ltd. has developed the world's first mass-production automobile assembly line with a main line that incorporates a flowing cell production system. The ARC Line installed to HATC's new Prachinburi Plant


The newly-developed ARC Line is a world's first innovative and unique assembly line that is different from a conventional line production system and was developed by incorporating flowing cell production-style production units in the main line. In production on a conventional line, which has been broadly adopted for automobile production to date, each production associate takes charge of a single process and installs parts to vehicle bodies flowing on a conveyor. In cell production, on the other hand, one production associate takes charge of a broader range of production processes and installs multiple parts.

In ARC Line production, four production associates get on board an ARC Unit, a unit of a conveyor that carries one vehicle body and a complete set of parts to be installed to the vehicle body, and assemble the vehicle while moving along the production line together with the vehicle. This system reduces any incidental movements by production associates - such as selecting the proper parts for the specifications of the next vehicle body coming down the line and installing them while walking along with the vehicle body. These are not considered essential assembly movements but are inevitable in conventional production processes. The ARC Line production achieves a significant improvement in production efficiency through the reduction of such process loss.

Moreover, with ARC Line production, each production associate takes charge of a broader range of production processes, which makes it possible for associates to gain a broader range of production knowledge and skills. This is expected to have a positive effect on the development of proficient production associates who will be capable of providing feedback from the production team to the development team in the future.

Honda will continue its efforts to increase the efficiency of production processes for the purpose of delivering attractive and high-quality products to its customers in a timely manner and at reasonable prices.

Key technologies adopted for the ARC Line

ARC Unit:

An ARC Unit constitutes the function of a conveyor that moves with the fixed layout of a vehicle body, with assembly parts and a workspace for each production associate onboard. Traffic lines of production associates do not cross, therefore four associates can work on one vehicle simultaneously with a reduced amount of unnecessary incidental movements, which increased ARC Line work efficiency by approximately 10% compared to that of a conventional line. In the area of logistics, because of the loop-shape of the conveyor, supplying full boxes of assembly parts at the start of assembly and retrieving empty boxes at the end of assembly can be done at the same spot. As a result, the number of spots where assembly parts are brought to the line was minimized, which reduces the workload related to parts handling within the plant by approximately 10%.

The ARC Unit can be added to the production line unit by unit, which enables the plant to change the layout of a production line flexibly to accommodate future changes in production volume as well as the additions of production models. Moreover, the ARC Line has a structure that is less likely to be affected by spatial restrictions of an installation site, therefore reduction of investment cost can be expected when structurally identical ARC production lines are installed to Honda production plants around the world.

PLUTO(3) System:

The PLUTO System is a quality maintenance/management support system designed to equalize both the skill level of ARC Line production associates and the quality of finished products at a high level. Using tablet-type devices placed in the work space on each ARC Unit, the system provides visual and audio instructions such as the sequence of parts assembly and points for quality management so that human errors such as misassembly of parts by less proficient associates will be prevented.

Moreover, inspection associates will immediately inspect each vehicle at the Q-GATE, the quality inspection area which follows the ARC Line, which makes it possible to immediately address any assembly errors. After addressing identified error(s), the system feeds inspection results back to the responsible production associate. When any error is found, the system displays an alert message on the screen when the associate turns on the system to work on the next vehicle. With these functions, the PLUTO System will ensure high quality maintenance during the assembly process.

DiSC(4) System:

The DiSC System works in conjunction with production planning and helps to supply the proper parts to each production associate. When associates in charge of the parts storage area adjacent to the ARC Line prepare assembly parts for upcoming vehicles, indicator lights on parts shelves will illuminate to notify the location of necessary parts. This system enables the accurate supply of parts even for a production line where multiple models are being assembled simultaneously.

(1) Honda internal research
(2) ARC: Assembly Revolution Cell
(3) PLUTO: Proficiency Learning and Ushering Target for Operator
(4) DiSC: Distribution Set-pack Control


Contact:

Media Inquiries
corporate_pr@hm.honda.co.jp
+81-3-5412-1512


Topic: Press release summary

Source: Honda Motor Co, Ltd
Sectors: Automotive
http://www.acnnewswire.com
From the Asia Corporate News Network
Copyright © 2023 ACN Newswire. All rights reserved. A division of Asia Corporate News Network.

Honda Motor Co, Ltd
Nov 8, 2023 14:30 HKT/SGT
New CB1000 Hornet, return of the CBR600RR and innovative Honda E-Clutch headline Honda's full 24YM European line-up reveal at EICMA
Nov 8, 2023 13:36 HKT/SGT
Honda Develops World's First Honda E-Clutch for Motorcycles
Oct 23, 2023 18:41 HKT/SGT
Honda to Expand Eligibility for Participation in IGNITION, Honda's New Business Creation Program, Starting November 2023
Oct 19, 2023 15:57 HKT/SGT
Honda, GM and Cruise Plan to Begin Driverless Ridehail Service in early 2026
Oct 18, 2023 16:54 HKT/SGT
Participating in Dakar 2024 to Develop Small Hydrogen Engines Accelerating Development of Core Technologies and Building Global Alliances Toward Early Adoption of Hydrogen Small Mobility Engines
Oct 17, 2023 17:00 HKT/SGT
Isuzu and Honda to Hold First Public Exhibit of Fuel Cell-Powered Heavy-duty Truck at JAPAN MOBILITY SHOW 2023
Oct 12, 2023 14:02 HKT/SGT
Honda and MC Sign MoU to Explore New Businesses in EV Age
Oct 10, 2023 16:37 HKT/SGT
Honda Previews Details of World's First Honda E-Clutch for Motorcycles on Website
Oct 9, 2023 14:31 HKT/SGT
Oracle Red Bull Racing Driver Max Verstappen Wins Third Consecutive F1 Drivers' World Championship
Oct 5, 2023 13:32 HKT/SGT
Honda to Begin Sales of All-new N-BOX in Japan
More news >>