| | |
| --- | --- |
| Tuesday, 26 April 2016, 21:02 HKT/SGT | |



HONG KONG, Apr 26, 2016 - (ACN Newswire) -

With real estate securitization as a major trend in the international financial market and the development of economic globalization, Chinese domestic market has put real estate securitization to its agenda. Greenland Hong Kong Holdings Limited ("Greenland Hong Kong" or the "Company", stock code: 337.HK), a subsidiary of Greenland Holding Group Company Limited ("Greenland Holding" or "Greenland Group", stock code: 600606.SH), which is a leading global real estate company, seizes the opportunity and today entered into a framework agreement on strategic cooperation with Kuwait Strategic Investor's wholly owned company Al Waseet International ("AWI") and/or its affiliates.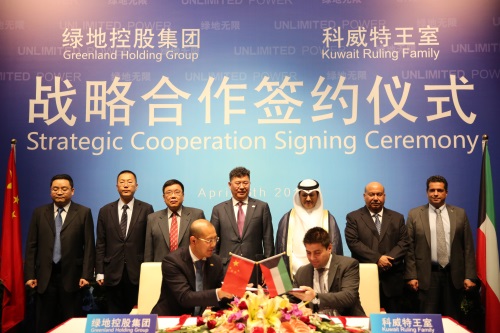 Mr. Chen Jun(left), Chairman and CEO of Greenland Kong Kong Signing Contract with Majd Suleiman(right), CEO of AWI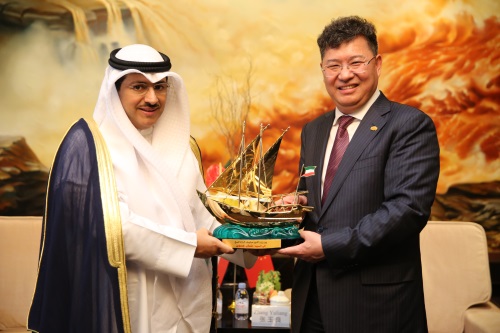 Mr. Yuliang Zhang(right), Chairman and President of Greenland Group Exchanging Gift with HH Sheikh Sabah J M Al-S


According to its announcement, Greenland Hong Kong will issue 459,005,021 convertible preferred shares ("CPS") to AWI, as the consideration for the purchase of an approximately 41% effective interest in the Project Lane real estate project located at Central Park South in New York from AWI. The CPS shall be convertible into ordinary shares of Greenland Hong Kong on a 1:1 basis at no further cost upon the earlier of: (i) three (3) years after the date of the issuance of such CPS, or (ii) any date on which the six (6) month weighted average price of the ordinary shares of Greenland Hong Kong listed on The Stock Exchange of Hong Kong Stock Limited is equal to or above HK$5.00 per share.

Assuming all the CPS are converted into ordinary shares of Greenland Hong Kong, Kuwait Strategic Investor will become the second largest shareholder of Greenland Hong Kong. In addition, Kuwait Strategic Investor and Greenland Hong Kong will jointly establish the Silk Road Integrated Real Estate Fund (the "SRIREF") with a targeted size of US$8 billion, to invest in top-tier world class real estate projects, with large diversification ranging from residential and commercial properties to office, retail store and hotel etc. The transaction marks a significant starting point for Greenland Hong Kong, as a Hong Kong listing platform for the Greenland Group, to formally enter the global capital market. It is also the turning point for Greenland Hong Kong to adopt a parallel development model that includes property developing, internet financing and asset management to result in its transition from a property developer to a macro asset manager, as well as its implementation of "asset light" strategy.

The acquired Project Lane real estate project in New York Central Park is located at the 59th street of Central Park South, known as the "billionaires' circle", between the Fifth and Sixth Avenue, with a total site area of 2,425.6 sq meter, planned total gross floor area of 34,207.6 sq meter and a great proximity to 17 metro routes and 11 bus stops. Situated at the core of Manhattan's financial center, the site looks out to an unblocked panoramic view from Central Park to the Hudson River. The Park Lane project will be developed into a world's top-notch luxury property project that is estimated to reach a sales income of US$3.6 billion - US$4.3 billion, with strong add value potential as well as an optimistic market outlook and investment return.

Mr. Yuliang Zhang, Chairman and President of Greenland Group said, "Greenland Group has always been confident in US market and has developed many real estate projects in New York City and Los Angeles. As a Chinese entity, Greenland Group's achievements in promoting the local urban construction and have received high attention and strong support of the political and commercial society in the United States. The acquisition of Park Lane project is going to be an innovative and landmark property with unique resources and, collaborating with the top architects, engineers and designers, the property will redefine New York's real estate market and become a landmark in New York City."

In line with State President Xi's "One Belt, One Road" vision to foster closer relationship between the People's Republic of China and the Middle East as international strategic partners in terms of economic cooperation, cultural exchange, regional collaboration and financial platform construction, Kuwait Strategic Investor and Greenland Hong Kong will jointly establish the SRIREF with targeted fund size of US$8 billion, and will start in-depth cooperation with several Middle East sovereign funds in the future.

With a vision of the global property market, the SRIREF will share investment opportunities with international strategic and financial investors who are interested in large and diversified international financing; develop top property projects in the prime areas of major cities, ranging from residential and commercial properties to office, retail store, hotel and property project combinations with integrated development; provide international and diversified investment combinations spanning all phases of development, ensuring steady cash flow and return for the investors, enhancing their leverage income and helping them maximize the value in every phase of the property development; establish value chain spanning asset development and asset management; and bring top property projects in the world to Greenland Group to expand its investment territory in the global property market.

Mr. Yuliang Zhang believed, "With the deepening development of the economic globalization and the accelerating integration of regional economy, the central government has pushed forward the strategy of "One Belt, One Road" basing on the domestic and overseas situation, in order to further integrate the global economic system, establish a new, comprehensive and opening structure and to upgrade Chinese economy. The strategic cooperation between Greenland Group and Kuwait Strategic Investor proves the Middle East countries' recognition of the international influence and project operation ability of Greenland Group. The two parties will both be dedicated in developing the economic belt of Silk Road and the 21th century Maritime Silk Road and explore the investment opportunities of the global real estate market based on the platform of the SRIREF.

This cooperation will also provide new significant developing opportunities for Greenland Group to increase the international competency, integrate the global resources and improve the structure of supply chain within the process of its globalization. Meanwhile, it will contribute to another essential measure of Greenland Group in terms of the financialization, diversification and light capitalization. Greenland Group will uphold the principles of asset-light and rapid growth, and stress a more effective operation, allocation and recycling of fund. At every phase of the real estate development cycle, Greenland Group will also strengthen the financial power and financial approaches to develop the exploration of real estate by optimizing the structure of investment combination, with the expectation of maximizing the investing values."



Topic: Press release summary Sectors: Daily Finance, Daily News
http://www.acnnewswire.com
From the Asia Corporate News Network



Copyright © 2022 ACN Newswire. All rights reserved. A division of Asia Corporate News Network.




Latest Press Releases
India's top BFSI experts Unite to Reshape India's Banking Landscape at #TresconBFSI
Aug 9, 2022 20:42 HKT/SGT
SKYX Achieves Historic U.S. Standardization Approval Vote - a Major Milestone Towards Mandatory Status for Safety of Consumers and Professionals
Aug 9, 2022 20:31 HKT/SGT
Virios Therapeutics: The 'Virus Hypothesis' That Stands to Change the Lives of 10M Americans
Aug 9, 2022 20:30 HKT/SGT
The 3rd Asia Digital Talent Summit 2022
Aug 9, 2022 18:00 HKT/SGT
Eisai and Lifenet Enter Into Capital and Business Alliance Agreement Aimed at Building Ecosystem to Reduce Burden of Medical and Nursing Care
Tuesday, August 9, 2022 5:09:00 PM
ALTAVA Enters into Partnership with Hyundai Department Store
Aug 9, 2022 17:00 HKT/SGT
Enhancing data governance through the 3rd DEWG meeting
Aug 9, 2022 16:00 HKT/SGT
Legend Capital Super Antibiotic Portfolio Company: Scarce Enterprise MicuRx Pharmaceuticals is Listed on the STAR Market Successfully
Aug 9, 2022 13:06 HKT/SGT
Paribus: DeFi Protocol for Exotic Digital Assets
Aug 9, 2022 07:56 HKT/SGT
Crypto Exchange, JPEX Announces Launch of Native Token, JPC
Aug 8, 2022 23:00 HKT/SGT
More Press release >>


Events:

More >>