Cambodia's Foreign Ministry Secretary of State Dr Soeung Rathchavy inaugurates the campus for the up-and-coming school.



Phnom Penh, Cambodia, June 15, 2023 - (ACN Newswire) -

Harrods International Academy's sixth campus was inaugurated by Secretary of State to Cambodia's Ministry of Foreign Affairs and International Cooperation Dr Soeung Rathchavy on June 8 - a major achievement for Harrods, which has been providing international and dual education to students for nearly a decade.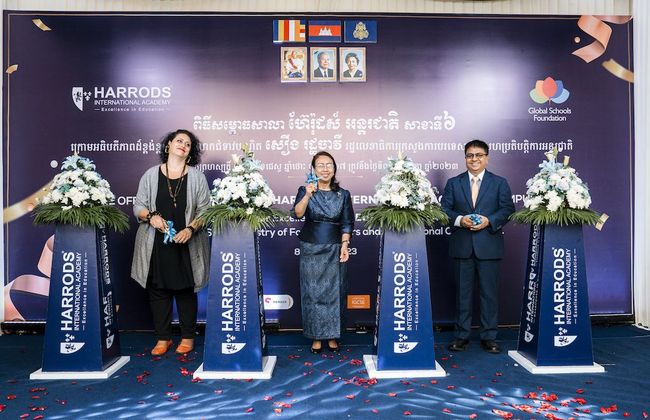 Harrods International Academy: Inauguration of Harrods Campus 6 by H.E Dr Soeung Rathchavy at Phnom Penh on Jun 8, 2023.
Mr Atul Temurnikar, GSF Chairman was also present on the occasion.


Dr Soeung cut the ceremonial ribbon to inaugurate the campus that will provide International and Dual Curriculum to Lower Primary students from Year 1 to Year 3. Speaking on the occasion, Dr Soeung said: "Harrod's efforts at providing quality national and international education is of critical importance and of substantial contribution to Cambodia's human resource development, particularly in the growth of talented and intelligent children."

Harrods International Academy is part of the renowned Global Schools Foundation, which has a presence in 10 countries with 35 campuses, imparting education to more than 31,500 students. The new campus will continue the Foundation's tradition of providing new-age education fit for 21st-century aspirations through modern infrastructure in a digital environment.

Campus 6 marks a new frontier for the GSF school in Cambodia, bringing quality International Primary curriculum for students to strengthen their academic and extracurricular skills through activities like arts, sports, music and languages.

GSF Co-founder and Chairman Mr Atul Temurnikar hailed it as a major step in the right direction for Harrods International Academy. "Campus 6 is a great addition to our family of schools. In the last 9 years, Harrods has shown remarkable dedication to the cause of quality education for the new generation. The new campus will continue this tradition," he said.

Harrods International Academy, Campus 6 offers a comprehensive Lower Primary educational programme that includes IPC as well as Dual Curriculum. The school also features state-of-the-art facilities, including modern classrooms, science labs, libraries, and sports facilities.

About Global Schools Foundation (GSF)

GSF, a Singapore-based not-for-profit foundation that reinvests for growth, has a network of 35 campuses across 11 countries including Japan, South Korea, Singapore, Cambodia, United Arab Emirates, and Malaysia where 32,000 students from 70 nationalities study. It is a recipient of over 450 international education excellence awards from national quality organisations. In addition to International Baccalaureate and Cambridge IGCSE, its schools provide American, IPC, CBSE and ICSE curriculum. https://myglobalschool.org.

About Harrods International Academy

Harrods International Academy is the fastest growing school of GSF. It has been operating five campuses in Cambodia since 2014, with two more campuses to be added to the HIA family this year. Students of Harrods get multi-curricular education, with a well-defined tertiary programme that includes Cambridge Advanced 'A' Levels and Harrods Secondary Certificate (HSC). It provides students with a way to a good university education. https://harrods.edu.kh/.

Contact Information
Rupali Karekar
Divisional Manager
rupali.karekar@myglobalschool.org
+6598734320


Topic: General Announcement
Source: Global Schools Foundation / Harrods International Academy
Sectors: Daily News, Education, Local Biz
http://www.acnnewswire.com
From the Asia Corporate News Network



Copyright © 2023 ACN Newswire. All rights reserved. A division of Asia Corporate News Network.