| | |
| --- | --- |
| Tuesday, 1 March 2016, 18:30 HKT/SGT | |


Source: HKTDC
Commerce Secretary Attends Opening Reception; International Jewellery Show to Open on Thursday



HONG KONG, Mar 1, 2016 - (ACN Newswire) -

Organised by the Hong Kong Trade Development Council (HKTDC), the International Diamond, Gem & Pearl Show opened today and continues through 5 March at the AsiaWorld-Expo. This third edition of the show welcomes more than 1,880 exhibitors from 42 countries and regions to showcase jewellery raw materials including quality diamonds, precious gems, semi-precious stones and pearls.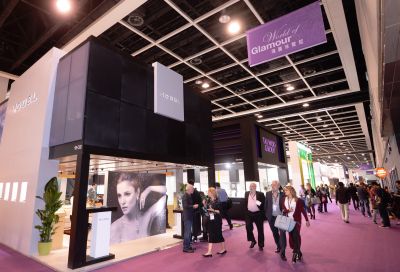 The 33rd Hong Kong International Jewellery Show is set to open on Thursday at the Hong Kong Convention and Exhibition Centre. (Photo from the 2015 Hong Kong International Jewellery Show)


On Thursday (3 March), the 33rd HKTDC Hong Kong International Jewellery Show will begin its five-day run at the Hong Kong Convention and Exhibition Centre (HKCEC). Under this "two shows, two venues" arrangement for jewellery raw materials and finished jewellery collections respectively, buyers will have a more effective and convenient sourcing experience. At the same time, the two shows generate business synergy by drawing in more exhibitors and buyers to create additional business opportunities. Together with the more than 2,500 exhibitors of International Jewellery Show, the two events welcome more than 4,380 exhibitors from 54 countries and regions, forming the world's largest jewellery marketplace.

"Sea Sparkle" theme generates chic luxury feel

Today's opening reception was officiated by Gregory So, Secretary for Commerce and Economic Development of the Hong Kong Special Administrative Region (HKSAR) Government. Mr So also visited the fairground. Benedict Sin, Chairman of the HKTDC's Jewellery Advisory Committee, said, "In adopting the theme of 'Sea Sparkle', the Diamond, Gem & Pearl Show aims to accentuate the dazzling appeal of diamonds and gemstones through the mystery and unpredictability of the ocean. Using such colours as blue, purple and green as the main design theme, and visual effects created by mirrors and motion, a chic luxury feel is generated at the venue."

Clear product zones facilitate sourcing

Dedicated zones are set up for specific jewellery raw materials, including the Exclusive Showroom-Diamonds and the Hall of Fine Diamonds for quality diamonds; Treasures of Nature for precious gemstones; and Treasures of Ocean for exquisite pearls.

In response to buyers' sourcing needs, a new Rough Stones & Minerals zone is added this year to showcase unpolished and uncut precious stones and gems. In addition, group pavilions representing places of origin of different jewellery raw materials, including Australia, Belgium, the Chinese mainland, India, Israel and the United States are sprinkled around the fairground.

Seven influential organisations in the jewellery industry have also set up pavilions, including International Colored Gemstone Association and New York Diamond Dealers Club. The show also welcomes the first-time participation of the Tanzanite Foundation with its violet-blue gemstones, which were first discovered less than 50 years ago and are found exclusively in Tanzania. Tanzanite is drawing increasing attention in the jewellery industry.

Wide range of business opportunities

In addition to the many varieties of diamonds, gems and pearls brought by exhibitors, the show also presents a host of activities that provide industry players with market insights and the latest intelligence. At the seminar on "Guide to Identify and Screen Synthetic Melee Diamonds", Dr Wuyi Wang, Director of Research & Development at the Gemological Institute of America (GIA), will discuss technologies for identifying synthetic diamonds. Another seminar, hosted by the Italian Trade Commission, will highlight the Italian coral jewellery sector's contribution to protecting marine ecology. The Tanzanite Foundation will also reveal the significance of the emerging tanzanite stones.

During today's Buyer Forum, industry experts from the Chinese mainland and Russia shared the latest developments from their respective markets. Furthermore, a number of networking receptions are organised during the fair period to give exhibitors and buyers the chance to exchange information on different markets while appreciating the glittering diamonds and gemstones on offer.

International Jewellery Show opens Thursday

The Hong Kong International Jewellery Show (3-7 March) is set to offer diversified jewellery sourcing opportunities. It will feature the Hall of Extraordinary with rare and top-tier jewellery pieces; the Hall of Fame devoted to the elegance of popular brands; the World of Glamour that houses Hong Kong-based exhibitors; as well as the Antique & Vintage Jewellery Galleria and the Designer Galleria. Making its debut this year is the Wedding Bijoux zone displaying wedding rings and bridal jewellery.

In addition to seminar sessions, jewellery parades and networking receptions, the HKTDC has also organised more than 110 buying missions comprising more than 9,300 buyers from 75 countries and regions to offer more business opportunities for exhibitors. A free shuttle bus service will run between the HKCEC and the AsiaWorld-Expo from 1 March to 5 March.

Details on the free shuttle bus service between AsiaWorld-Expo and urban districts: http://bit.ly/1nFVaI9

Fair website:
Hong Kong International Diamond, Gem & Pearl Show: http://www.hktdc.com/fair/hkdgp-en
Hong Kong International Jewellery Show: http://www.hktdc.com/fair/hkjewellery-en

Photo Download: http://bit.ly/1QIqahu

Media Registration: Media representatives wishing to cover the event may register on-site with their business cards and/or media identification.

To view press releases in Chinese, please visit http://mediaroom.hktdc.com/tc


Contact:

HKTDC
Communication and Public Affairs Department
Joe Kainz
Tel: +852 2584 4216
Email: joe.kainz@hktdc.org

Topic: Trade Show or Conference

Source: HKTDC
Sectors: Trade Shows, Retail & eCommerce
http://www.acnnewswire.com
From the Asia Corporate News Network
Copyright © 2022 ACN Newswire. All rights reserved. A division of Asia Corporate News Network.

HKTDC
June 28, 2022 18:00 HKT/SGT
HKTDC launches brand-new exhibition model EXHIBITION+
June 24, 2022 17:00 HKT/SGT
32nd annual Hong Kong Book Fair returns on 20 July
June 15, 2022 19:00 HKT/SGT
10 winning start-ups stand out at Start-up Express
June 14, 2022 18:00 HKT/SGT
HKTDC Export Index 2Q22: HK Export Index rebounds across all markets and sectors
May 31, 2022 12:00 HKT/SGT
Start-up Express Pitching Final takes place on 15 June
May 27, 2022 11:00 HKT/SGT
Hong Kong 'ideal listing destination' for ASEAN companies
Apr 20, 2022 15:00 HKT/SGT
HKTDC: 93% of international buyers used online sourcing platforms during pandemic
Mar 18, 2022 16:00 HKT/SGT
8,000 talents join FILMART Online and EntertainmentPulse
Mar 18, 2022 15:00 HKT/SGT
HKTDC MarketingPulse and eTailingPulse draw more than 25,000 viewers
Mar 17, 2022 17:00 HKT/SGT
HKTDC Export Index 1Q22: Export confidence continues to shrink
More news >>