| | |
| --- | --- |
| Wednesday, 9 May 2018, 05:00 HKT/SGT | |


Source: HKTDC
Propels Start-ups to Grow and Scale-up



HONG KONG, May 9, 2018 - (ACN Newswire) -

The 10th HKTDC Entrepreneur Day (E-Day) will take place at the Hong Kong Convention and Exhibition Centre on May 17-18. Featuring more than 270 exhibitors, E-Day showcases a wide range of innovative technologies, products and supporting services tailored for entrepreneurs.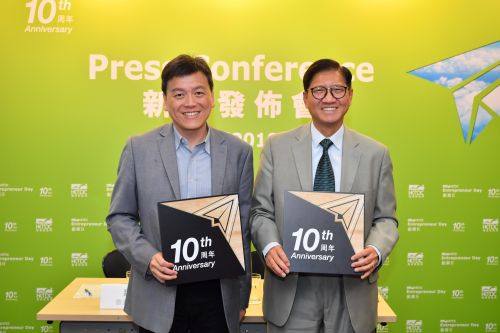 Raymond Yip, Deputy Exec. Director, HKTDC; Ken Ngai, Deputy Exec. Director, Hong Kong Federation of Youth Groups, press conference for the 10th Entrepreneur Day.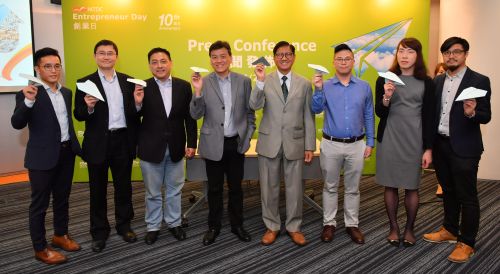 Nathan Hui, Co-founder, MedMind Technology; Professor Benny Zee, Founder, Health View Bioanalytic Ltd; Kow Ping, Co-founder, Well Being Digital Ltd; Ken Ngai, Deputy Exec. Director, HK Federation of Youth Groups; Raymond Yip, HKTDC Deputy Exec. Director; Lau Wai Fung, CEO, Met-A-Cell Ltd; Wu Wai Tung, Co-Founder, With You Services Ltd; and Dennis Huen, Co-founder, MedMind Technology.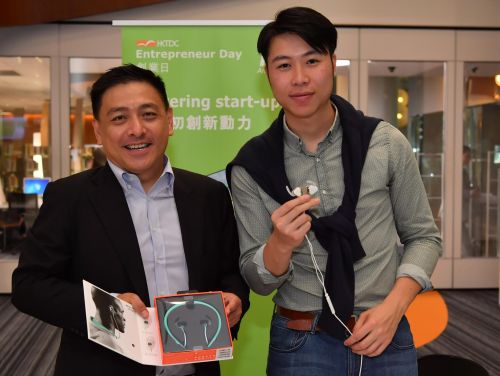 World's first AI assisted earphones which can measure heart rate and assess whether the user is under pressure, then choose and play relaxing music from his playlist.


A series of seminars, pitch meetings, business advisory sessions and networking activities will be held, supporting start-ups to build connections, acquire information, seek funds and recruit talents. E-Day will also serve as a platform for investors to seek out innovative ideas for potential investments. The exhibition will be open to the public for free.

Strong interest in The Imaginarium Zone with doubled exhibitors

"The start-up ecosystem in Hong Kong has become more advanced, with the number of start-ups in the city growing 16% to 2,200 last year," said Raymond Yip, Deputy Executive Director of HKTDC. "We are devoted to supporting start-ups, and we have been organising various events and missions to meet the start-ups' needs at different development stages.

"In 2009, we launched E-Day, which is HKTDC's flagship event for supporting start-ups. Given the vibrant start-up scene, the number of exhibitors and visitors at E-Day have doubled since the first edition, and new innovative elements have been incorporated to cater to the ever-changing needs of start-ups.

"The government have launched a lot of initiatives to boost Hong Kong's innovation and technology in recent years, especially in the areas of biotech, AI, smart city and the fintech sectors," noted Mr Yip. "With this strong support from the government, we can see that more and more exhibitors from these industries are joining E-Day."

With the theme "Powering start-ups", the fair showcases a wide range of innovative products and services. This year, the scale of the Imaginarium Zone has doubled, featuring more than 140 start-ups in the fields of medical tech and biotech, fintech, green tech, Internet of Things (IoT), artificial intelligence (AI), robotic technology, and more.

Star speakers share secrets of success

More than 40 entrepreneurs from different industries will share their experiences on starting up and scaling up, and they will also discuss technology trends and business opportunities including AI, IoT, fintech, healthtech and edtech in a series of seminars at the "Start-up Runway", one of the event's highlights.

"Many of the start-ups nowadays have already grown beyond the process of starting, idea generation and product testing to the new stages of launching the product and expanding their business," said Mr Yip as he explained the theme "Start up Right - Scale up Fast."

Renowned experts including Bonnie Cheung, Venture Partner of 500 Startups, one of the most active seed investors globally with over 2,000 portfolio companies, Wesley Ng, CEO & Co-founder, Casetify and Norma Chu, CEO, DayDayCook, will be speaking on the first day of the event and share the secrets of transforming from start-ups to becoming large enterprises.

Many speakers this year have gained seed funding, Series A or Series B financing. Among them are Lawrence Tzang, Co-founder and Chief Scientific Officer, Prenetics Limited; Dr Miles Wen, CEO, Fano Labs Limited; Christopher Hugentobler, Head of Growth, Snapask Hong Kong Limited, and Mathias Helleu, Executive Chairman, 8 Securities Limited.

Ample Opportunities in the Bay Area

"Guangdong, Hong Kong and Macao all have their own unique advantages," noted Mr Yip. "The Guangdong-Hong Kong-Macao Bay Area Development (Bay Area) is a symphony of these strengths, making the whole area more competitive. Hong Kong is the most internationalised metropolis in the Bay Area with world-class financial and professional services.

"By utilising this great advantage, Hong Kong can promote closer business cooperation between Bay Area and the rest of the world, especially in the areas of commercialisation, intellectual property trading and cross-border investment."

E-Day also features from Guangdong province and Macao, showcasing products such as Biomorphic robots and smart energy management system. In addition, several organisations and multipliers such as the Authority of Qianhai, Guangdong Youth Entrepreneurship and Employment Promotion Centre, Junior Chamber International Apex, the Angel Investment Foundation and STARTHUB, will host a seminar and a series of start-up competitions at E-Day.

Expanding to overseas

This year, the HKTDC launched a brand new 'Start-up Express' programme to connect start-ups with potential investors and business partners to explore new opportunities, and expand global businesses through participating in exhibitions and missions. "The response exceeded expectations, with more than 100 enrolments.

Twenty finalists will present their innovative ideas to the panel of judges led by Antony Leung at E-Day on 18 May. Ten winners will have the opportunity to grasp new businesses opportunities overseas by taking part in international events and exhibitions for free, such as Think Global, Think Hong Kong and In Style, Hong Kong.

The Council is also planning to organise a mission to the Bay Area in August. Visiting Shenzhen Nanshan district and Dongguan, the mission aims to help start-ups understands more about the start-up scene in the Bay Area, its potential as a production base and consumer market, as well as the demand for professional services.

The 'NiCubator' programme, which is set up by award-winning actor, singer and entrepreneur Nicholas Tse, will also support 'Start-up Express' by providing winners with the promotional opportunities such as appearing in his programme.

Building Networks

Relationship and network building are key elements for start-ups to grow. 'Start-up Mixer' will return to E-Day, allowing start-ups to meet with experts from a wide spectrum of industries in the speed dating format. Launched by the Hong Kong Federation of Youth Groups and the HKTDC, it aims to inspire start-ups to generate new ideas for starting up a new business.

Other special events include the 'Bootcamp by Techstars Startup Weekend', the inaugural 'Pitching for Charity' co-organised by Jumpstart Media, 'Start-ups Meet Talent' co-organised with WHub, 'Fund & Mentor' and 'Start-up Clinic', and more.

E-Day 2018 www.hktdc.com/eday, registration https://bit.ly/2rcuXp3, photos https://bit.ly/2rtDAej.

Please contact the HKTDC Communications & Public Affairs Department:
Angel Tang, Tel: +852 2584 4554, Email: angel.hc.tang@hktdc.org
Beatrice Lam, Tel: +852 2584 4049, Email: beatrice.hy.lam@hktdc.org



Topic: Trade Show or Conference
Source: HKTDC
Sectors: Trade Shows, Retail & eCommerce, Advertising, Blockchain Technology, PE, VC & Alternatives, Digitalization

http://www.acnnewswire.com
From the Asia Corporate News Network
Copyright © 2023 ACN Newswire. All rights reserved. A division of Asia Corporate News Network.

HKTDC
Sept 27, 2023 17:00 HKT/SGT
HKTDC Export Index 3Q23: Export sentiment softens in Q3
Sept 22, 2023 01:00 HKT/SGT
Hong Kong Dinner in London returns after 4-year hiatus
Sept 20, 2023 16:30 HKT/SGT
"Think Business, Think Hong Kong" drives French businesses to tap Asian opportunities via Hong Kong
Sept 15, 2023 12:00 HKT/SGT
HKTDC Hong Kong Watch Design Competition mixes creativity, playfulness
Sept 14, 2023 19:00 HKT/SGT
HKTDC: Eighth Belt and Road Summit concludes successfully
Sept 13, 2023 20:00 HKT/SGT
8th Belt and Road Summit opens today
Sept 12, 2023 21:00 HKT/SGT
Young Fashion Designers' Contest 2023 winners revealed
Sept 11, 2023 19:00 HKT/SGT
CENTRESTAGE draws 7,700 buyers
Sept 10, 2023 12:00 HKT/SGT
Hong Kong Watch & Clock Fair, Salon de TE attract nearly 15,000 buyers
Sept 8, 2023 14:15 HKT/SGT
Latest Arrangements for HKTDC: Hong Kong Watch & Clock Fair, Salon de TE and CENTRESTAGE
More news >>